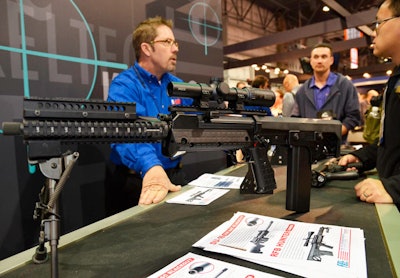 One word summed up this year's Shooting Hunting and Outdoor trade show held last month in Las Vegas: zombie.
The show seemed to have been taken over by some alternate reality where the greatest threat facing America is an outbreak of "Walking Dead" disease. There were zombie targets that bled, zombie gun grips, zombie gun cleaning kits, zombie guns, zombie ammo. DoubleStar even showed an AK variant equipped with an electric chainsaw for zombie dispatching.
But despite the industry's attempt to transform shooting sports and self-defense into some kind of video game for the Generation Z folks, there was still plenty of serious hardware for law enforcement at this year's show. You just had to ignore the dealers stocking up for World War Z and plow through.
Here's a quick look at some of the cooler stuff that was on display in the aisles of the Sands Convention Center. POLICE will publish a more detailed look at this year's SHOT Show in our March issue.
Ammo
Hornady debuted zombie killing rounds, but it also showed new duty ammo. The company's Critical Duty line is available in 9mm, 138 grain; 9mm +P, 135 grain; and .40 S&W, 175 grain. The ammo was successfully tested under FBI protocols against a variety of urban barriers. It also penetrated 12 to 15 inches of bare ballistic gelatin. Critical Duty builds on Hornady's Critical Defense line by incorporating its Flex-Tip rubber bullet that aids expansion after impact.
Accessories
Plate carriers were big at this year's show. 5.11 Tactical debuted its new TacTec Plate Carrier. This new gear was designed for tactical operations, and it offers the wearer an increased range of motion over conventional plate carriers. U.S. Armor also showed a new plate carrier and new rifle plates. The U.S. Armor RPC (Rifle Plate Carrier) offers excellent comfort thanks to its shoulder and side straps, which are easily adjusted for both horizontal and vertical fit. U.S. Armor's new polyethylene rifle plates are available in NIJ Level III and Level IV and they weigh less than half as much as ceramic plates.
There were not a lot of new holsters at this year's show, but one that caught the eye of the POLICE staff was the new Concealed Carry Holster from Hogue. The compact holster features fully automatic retention, and its contoured profile fits closely to the body, reducing "firearm printing."
On the illumination side of things, Streamlight showed a wide variety of gun lights and LED flashlights, including the TLR-1 HP long gun lights. There are four versions of this powerful light; all with 200-lumen output, deep-dish parabolic reflectors, and long-range targeting beams. The lights can be quickly mounted using Streamlight's one-handed snap-on interface.
Apparel and Footwear
There was so much law enforcement and concealed carry apparel that we could easily fill this entire issue of POLICE with details of it. But here's a quick look at some of the coolest stuff.
BlackHawk unveiled a women's clothing line that's specifically tailored to the female form. The apparel line includes duty wear, tactical clothing, off-duty options, active wear, and footwear. The company stressed that the garments aren't men's clothing in smaller sizes. The line is expected to be available in March.
TRU-SPEC showed a great new shirt for off-duty, undercover, or civilian concealed carry. The 24-7 Series Concealed Carry shirt has quick-release snaps camouflaged as buttons and three access points for concealed firearms. It also looks really sharp. Available in solid blue and in blue and white stripes.
Original S.W.A.T. introduced its Chase lightweight duty boots at the show. They're called "Chase" because the tread is designed to increase traction when officers need it most. Models include a 9-inch side-zip in black and tan versions, a low black version, and a 9-inch water-resistant black version. The low boot weighs 32 ounces, while the water-resistant boot comes in at 44 ounces. Available March 1, the boots retail for about $100.
Gear
At every SHOT Show, there's always a wide variety of law enforcement tools that have very little to do with the firearms theme of the show. That's because SHOT, despite its focus on hunting and sporting, has become one of the nation's most important showcases of law enforcement technology.
Perhaps that's why ITT Exelis chose the show to debut its fusion of infrared and night vision optics. The DGNVG (F6023DS) combines a Gen 3 image-intensified tube and infrared micro-bolometer into a compact head-mounted monocular to deliver fused imagery using an optical overlay. The monocular, which is approximately the same size as the AN/PVS-14, uses a separate battery pack for helmet-mounted or hand-held use. The device weighs less than two pounds.
Another high-tech company that showed new gear at SHOT 2012 was Zistos. The tactical camera company demonstrated its Universal Wi-Fi Link, which enables the quick set-up of wireless surveillance cameras. The wi-fi system can be used in conjunction with Zistos video systems and robots. The video can be viewed on a Zistos display or on a tablet, smartphone, or PC.
Firearms
Of course SHOT Show is really all about the guns. And there were plenty of new law enforcement rifles and pistols at this year's show.
Modular rifles have been a big draw at SHOT for a couple of years now. This year Colt showed its modular law enforcement model, the LE901 16S rifle. The LE901 can quickly convert from .308 to 5.56mm, and it weighs a mere 9.4 pounds. All operating controls are ambidextrous, and the rifle has plenty of rails for all of your accessories.
On the pistol side, SIG Sauer showed a new backup or off-duty 9mm, the SIG 938, which should be available by mid-year. The SIG 938 is expected to be offered in familiar SIG packages such as the Blackwood, Equinox, Rosewood, and Extreme. Night sights are standard. A TRUGLO tritium-fiber night sight will be offered as an upgrade. Capacity is 6+1 rounds. The 938s range in price from $795 to $823.
Bersa also showed a new backup or off-duty pistol, the BP CC 9. The BP CC is specifically designed for concealed carry. Chambered in 9mm, the pistol has a high-impact polymer frame, a Picatinny rail, and a three-dot sight. It holds eight rounds and sells for around $425, depending on features.
FNH USA is continuing its pursuit of the duty gun market with its new striker-fired FNS pistol. The FNS features a polymer frame design that includes an ultra-low bore axis to reduce felt recoil and two interchangeable backstraps to personalize the grip fit to the user. A weapon light can be attached to the Picatinny underframe rail. The pistol's aggressive checkering grip pattern improves control under the harshest shooting conditions. The new FNS is fully ambidextrous, allowing the user to access and activate the manual thumb safety levers, slide-stop lever, and magazine release button with either hand.
Related:
SHOT Show 2012 In Pictures (photos)