ATK's BlackHawk unveiled a women's clothing line at SHOT Show in Las Vegas that's specifically tailored to the female form, according to the company.
The apparel line includes duty wear, tactical offerings, off-duty options, active wear, and footwear for women. The company stressed that the garments aren't men's clothing in smaller sizes.
"We started from scratch with these garments to find options that really catered to women," according to Pat Christianson, BlackHawk's director of apparel development. "Our duty and tactical gear is designed with performance in mind. And we also added style and comfort into options ladies can wear when they're not working or training."
The tactical shirt, available in long and short sleeves, includes hidden pockets for smaller gear, a sunglasses-holder tab, pockets inside pockets, and mesh liners.
Tactical pants feature a silicone strip inside the waistband to hold shirts in place and elastic bands inside front pockets to secure cell phones, magazines, or other smaller gear. Colors include Khaki, OD Green, Navy, Chocolate Brown, and Black.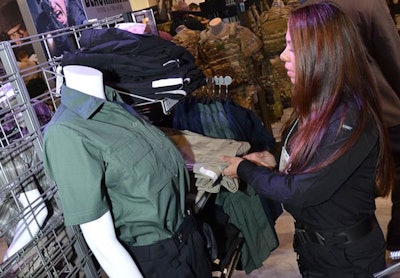 The Performance Polo in white features a non-see-through weave, contrast color with two other colors, and a loop for sunglasses. The Strenua top—it's named for the Roman goddess of strength—offers tapering and plaid prints so a concealed weapon isn't visible at first glance.
The active-wear apparel includes a fitted V-neck shirt and sports bra with antimicrobial technology, moisture-wicking, and compression to give women options for the gym or next training session. Features include pockets for concealed carry and wrinkle-resistant and moisture-wicking fabrics.
"We have different shapes than men," said new BlackHawk spokeswoman Aysha Webb. "We want to have something that is flattering and functional. Women don't want to look like a guy."
The apparel line is expected to be available in March.
By Paul Clinton