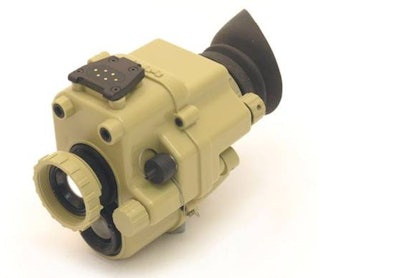 ITT Exelis' high-end dual-sensor monocular fuses night vision and thermal into a single image in the Dual Sensor Night Vision Goggle (DSNVG) introduced this week at the SHOT Show in Las Vegas.
The DGNVG (F6023DS) combines a Gen 3 image-intensified tube and infrared micro-bolometer into the compact head-mounted monocular to deliver fused imagery using an optical overlay.
The device functions in what company reps call "thermal outline mode" that shows heat-emitting shapes over the greenish hue of night vision.
The monocular, which is approximately the same size as the AN/PVS-14, uses a separate battery pack for helmet-mounted or hand-held use. The device weighs less than 2 pounds.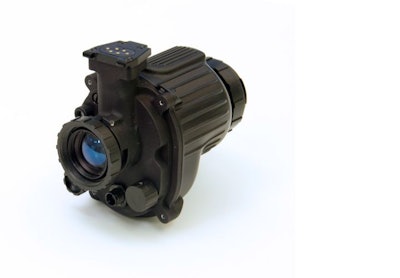 The company also introduced the i-Aware Tactical Mobility Night Vision Goggle (TM-NVG) F6044 Series. The TM-NVG provides a color display that allows a SWAT operator in the field to view video from a helicopter or other source during a manhunt or other extended tactical mission. The TM-NVG displays GPS coordinates, maps, and target information.
The device provides near infrared resolution, high gain, and variable controls to accomodate for changing light conditions.
By Paul Clinton