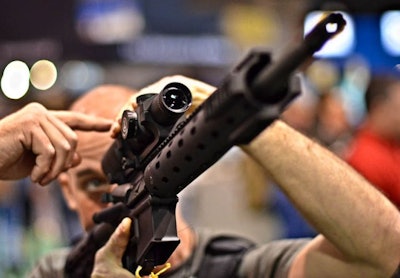 Returning from the annual Shooting Hunting and Outdoor Trade (SHOT) Show in Las Vegas, the POLICE staff is always weighed down with a wide variety of promos for new products. All of those brochures, CDs, and now jump drives get thrown into a soft briefcase or a cardboard box as we attack all the work that piled up while we were in Vegas.
Last month (with "SHOT Show 2012: Report from the Aisles") we gave you a look at some of the items from SHOT that immediately caught our attention. This month, we're going to open up the briefcase, and the boxes, load the CDs and the jump drives, and give you our Best of Show report.
Aimpoint's big announcement from this year's show was a major improvement to the company's Micro T-1 and Micro H-1 sights. The sights now offer 2 MOA red dot reticles for more precise shots. Aimpoint's Micro line of reflex sights can be used on pistols, long guns, and subguns.
The newest product from Brite-Strike is in the New England accent of the company's former cop CEO Glenn Bushee a "pissah." Actually, it's the Perimeter Infrared Intruder Security Alert or PIISA. The PIISA is a tripwire alarm system that tells soldiers and campers if someone or some animal has entered their perimeter. For police use, the PIISA has become a training tool for simulating booby traps and improvised explosive devices. The PIISA kit consists of an audible alarm unit, two tripwires, two APALS (All Purpose Adhesive Light Strips), two nylon tie wraps, and duct tape.
Brownells: Custom EOTech Sight
Firearms accessory distributor Brownells has a special agreement with L-3 EOTech to market a custom version of the EOTech holographic sight. The Brownells EOTech EXPS2 battlesight has a T-dot reticle for engaging targets at less than 10 yards and for more precise aiming at long range targets. With the exclusive Brownells T-dot reticle, the bottom of the circle is cut out and a T-shaped post inserted at six o'clock. A second 1 MOA dot is located below the center dot for engagements at extended ranges.
Creative Pet Products: K9 First Aid
The prevalence of highly trained dogs in police and military operations has led Creative Pet Products to develop kits that can be used to provide lifesaving first aid for injured animals. The K9 first-aid kits can be supplied with bandages, antiseptics, antibiotics, tools for closing wounds, pill guns, and even a resuscitation system that can be used to pump air into a dog's lungs.
Danner's new Flight Assault (DFA) boot was designed specifically for vertical insertion tactics. The boot has a special Vibram V4 outsole design that assists the wearer in slowing his or her descent during fast roping operations. Of course fast roping is not an everyday occurrence for even the most elite SWAT units, so the DFA is built for constant wear as well. It comes in 4.5-inch or 8-inch styles, with or without Gore-Tex, and features a moisture-wicking mesh for hot weather comfort.
Emerson Knives: Journeyman Knife
The Journeyman has all the features you would expect in an Emerson knife. It's rugged; it's simple; and it's elegant. The spearpoint blade design is ideal for a wide variety of applications, and the knife is available in smooth and serrated versions. Overall length is 9.7 inches with a blade length of 4.1 inches. Features include the patented Emerson Wave design for quick deployment. Grips are G-10 glass laminate.
Magnum introduced three new duty boots at this year's SHOT: Command 8.0 Side-Zip WPi, Panther 8.0 Side-Zip, and Women's Cobra 6.0 WPi. The Command 8.0 Side-Zip WPi is waterproof, features full-grain leather, moisture-wicking lining, and shock-absorbing EVA midsole all for an MSRP of $115. The Panther 8.0 Side-Zip features a leather/900 denier nylon upper, moisture-wicking lining, and a removable EVA insole for an MSRP of $90. The Women's Cobra 6.0 WPi is waterproof, features leather/900 denier nylon upper, moisture-wicking lining, and high traction slip-resistant outsole.
Finland's Noptel is not well-known in the United States, but it had the coolest training product at this year's SHOT. The company's Marksmanship Training tools feature an optical system that even though it's physically only 10 feet can be set to simulate targets 100s of yards away. Inside or outside it gives shooters and their trainers immediate feedback on hold, aim, and trigger control. This is a great tool for agencies that don't have rifle ranges.
Propper's popular Integrated Cooling Effect (I.C.E.) polo is now available in a long-sleeve men's version and for the first time in a women's version. The I.C.E. polos feature advanced wicking fabric that dries 125 percent faster than cotton. Fade, shrink, and wrinkle resistant, the shirts are made of 90 percent polyester and 10 percent cotton and feature pen pockets and mic clips.
Imported from Switzerland, the Sphinx SDP Compact Pistol is a solid feeling handgun specifically designed for law enforcement and military operators. Available in 9mm, the SDP is a double-action/single-action pistol that features a loaded chamber indicator, an internal firing pin safety, a drop safety, an integrated slide position safety, and a hammer safety. The upper frame and dust cover are made of aviation grade hard anodized aluminum with Teflon inserts to reduce wear; the lower frame is polymer; and the slide is machined from solid steel. There's also an integrated recoil buffer to help shooters keep the pistol on target.
SureFire's new Wristlight is an innovative illumination tool that's exactly what it sounds like: It's a flashlight worn like a wristwatch. The light pumps out 200 lumens. More importantly, it is easily activated as the wearer draws his or her pistol. This is an idea that could lead to some great new tools for cops.
Vertx new Phantom LT Pants are made of 65/35 polyester/cotton Rip-Stop material with IntelliDry fabric treatment for liquid and stain resistance. The pants have concealed pockets and multi-purpose cargo pockets. Available in desert tan, navy blue, khaki, black, and OD green.
Voodoo Tactical: Operator's Bail-Out Bag
This large bag offers 1,200 cubic inches of interior space to help you easily organize your gear. The exterior has four tall zippered pouches and three smaller hook-and-loop flap covered pouches great for carrying rifle mags.
Related:
SHOT Show 2012: Report from the Aisles