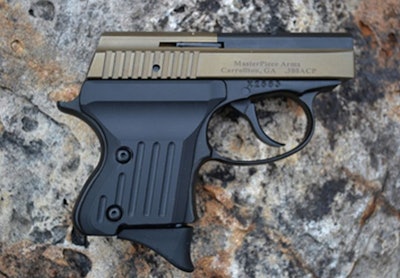 MasterPiece Arms has introduced its Protector II (MPA380-II) concealed carry pistol in .380 ACP, according to the company.
Updates from its earlier Protector include a beaver-tail to eliminate slide bite and enhance ergonomics. New square serrations have been added to the stainless and 4140 black steel slides that are built from a solid billet.
Added barrel porting reduces felt recoil. The pistol's machined aluminum grips, which are hard-coat anodized, are included on the Stainless, Premium and Coyote Brown models.
"These new design features are a result our continued focus on product improvement and enhancement," Phil Cashin, MasterPiece Arms president. "After a successful initial release of the Protector, the changes to the Protector II make the weapon more comfortable to shoot, and enhance the aesthetic value of the product."
A new Coyote Brown version of the Protector II will be introduced this spring. The pistol retails for $350.95.