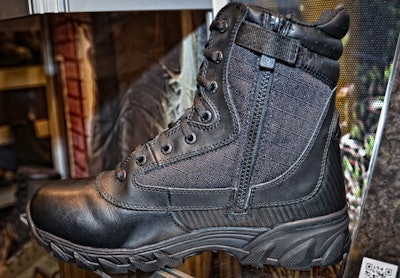 Original S.W.A.T. introduced a duty boot for officers at SHOT Show 2012 that's one of the most lightweight offered in the law enforcement market, company reps said.
The boot's tread is designed to increase traction when officers need it most. The Chase line features a durable, slip-resistant outsole.
Models include a 9-inch side-zip in black and tan versions, a low black version, and a 9-inch water-resistant black version. The low boot weighs 32 ounces, while the water-resistant boot comes in at 44 ounces.
Original S.W.A.T.'s line includes a feature known as "electrical hazard protection," an airport-friendly Texon platform insole, and a rubber outsole with lugs that deliver increased traction in wet conditions. The boots use PORON urethane foam pads for greater comfort.
The Chase series will be available March 1. The boots retail for $84.99 for the low boot, $109.99 for the 9-inch black or tan boot, and $119.99 for the water-resistant black version. Offered sizes range from 4-16, and 7-16 wide.