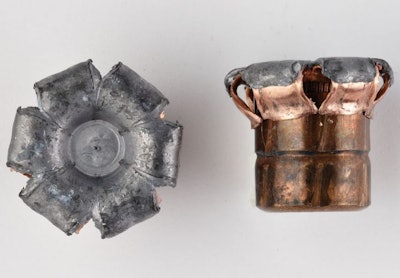 Hornady produced its Critical Duty ammunition with law enforcement in mind by testing it against six urban barriers so officers could effectively stop threats without risking over penetration, company reps said at SHOT Show.
Following standard FBI protocol, Hornady fired the projectiles into bare gelatin, wall board, heavy clothing, plywood, sheet metal, and glass. When fired from 10 feet away from the target, the bullets achieved 12-15 inches of penetration in each of the media.
The Critical Duty line, which was officially launched in November, is available in 9mm, 138-grain; 9mm +P, 135-grain; and .40 S&W, 175-grain. Critical Duty builds on Hornady's Critical Defense line by incorporating its Flex-Tip rubber bullet that aids expansion after impact.
The new projectile ("FlexLock" in Hornady parlance) uses the Flex Tip bullet wrapped in a metal band (the "InterLock") that keeps the bullet and core from separating. The projectile reacts differently depending on the barrier it encounters, according to Hornady.
Critical Duty bullets have a high-antimony lead core that provide "controlled expansion" when the bullet hits one of the barriers.
Nickel-plated cases help an officer's visibility during low-light chamber checks.
By Paul Clinton