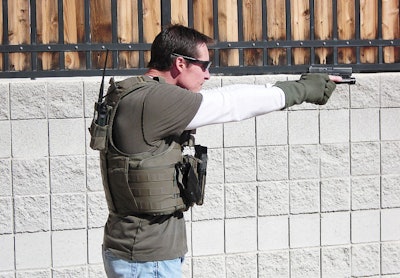 With over a decade of experience in law enforcement firearms instruction I recognize the importance of both listening and communicating with students on a live fire range, so I was excited to evaluate Soundgear electronic hearing protection.
Soundgear electronic hearing protection is a fully automatic earplug that returns environmental sounds while eliminating loud noise spikes. It is automatic in the sense that there is no user control that adjusts the level of volume in the unit (as is typical with other electronic hearing protection). Soundgear reports a Noise Reduction Rating (NRR) of 25 decibels.
The unit I received contained a small plastic carrying case containing the following: two small electronic "capsules," a large and a small pair of rubber sleeves (in safety orange), eight 1.4-volt #10 batteries, a battery removal tool, and a cleaning brush.
A single battery is inserted into each of the electronic devices to power the unit. The electronic "capsule" is then inserted into a rubber sleeve for insertion into the ear canal. Inserting the device into the sleeve effectively contains the battery. Upon inserting the now assembled device into the ear, you hear the unit power on and can immediately sense the return of normal environmental noises.
Over the course of two-and-a-half months I utilized the Soundgear on five firearms ranges (both indoor and outdoor ranges) as both an instructor and a shooter of 5.56mm rifle and .40 pistol. There were many things I liked about the devices. First, Soundgear is very comfortable. There was no need to remove them for adjustment or between strings of fire for conversation or instruction. The devices went in and stayed in for hours out on the range.
The "in-ear" compactness of Soundgear was a tremendous benefit while shooting a rifle. The devices aren't bulky like traditional over-the-ear hearing protection, which can often shift out of position or change a shooter's cheek weld on the weapon.
I also appreciated that Soundgear is not over amplified. I do recognize the limited tactical application of sound amplification, but find that over amplification on a range becomes annoying. I honestly don't want to hear every student walking on the gravel range. I loved the volume level that Soundgear returned.
In the role of instructor, I noted that Soundgear provided adequate noise attenuation as I instructed students from behind the line of fire. As a shooter, I found that Soundgear provided adequate noise attenuation while shooting a .40 caliber pistol on outdoor ranges.
There were some features I didn't like as well. For instance, Soundgear has no "off" switch. Instead, removing the batteries shuts the unit off. This means you must assemble the devices each and every time you attend the range and disassemble them each time you leave the range. I tested whether this was necessary and kept the unit assembled in the carrying case for a week. As I expected, the batteries died. Also, the #10 hearing aid batteries used in the devices are quite small. I found the battery tool unnecessary (my finger worked fine), but the device itself and the batteries require concentration and a clear, well lighted surface.
Unfortunately, I found Soundgear did not provide sufficient noise attenuation while shooting a .40 pistol indoors or when I was shooting a 5.56mm rifle outdoors. But it should be noted that I currently shoot a short barrel 5.56mm rifle, which is notorious for excessive noise spikes. I did not have the opportunity to shoot a rifle with a 16-inch barrel.
Overall, I would certainly recommend Soundgear to rifle or pistol instructors working at outdoor range facilities that are calling the range from behind the firing line, although I would caution their use by rifle shooters or at indoor range facilities. My Soundgear was comfortable both in the fit of the unit and the environmental volume levels it generated, and I think it may also play a strong role in tactical operations.
Soundgear by La Pierre Digital Hearing Protection Specs:
Noise Reduction Rating: 25 dB
Batteries: #10 hearing aid batteries
Complete kit comes in a convenient
carrying case and contains:
1 pair of SoundGear digital hearing protection devices
2 pairs of silicone sleeves (1 small and 1 large)
1 battery removal tool
2 packs of batteries
1 cleaning brush
1-year limited warranty
Price: $599
Mark Walther is a sergeant with the Scottsdale (Ariz.) Police Department.