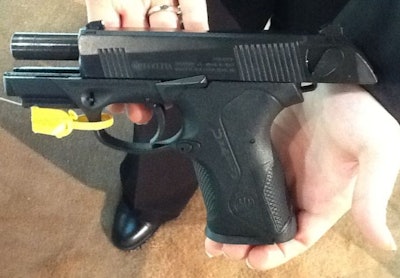 Beretta brought its Px4 Storm Compact pistol in .40 S&W to SHOT Show 2012, a year after introducing a compact 9mm version at the 2011 show.
The Px4 Storm Compact, which will be available in February, arrives with a 3.2-inch barrel. The proprietary rotary barrel design reduces felt recoil by dissipating energy in a more effective way than earlier versions, Beretta spokeswoman Sandy Henderson tells POLICE Magazine.
Ambidextrous controls include the pistol's magazine release and slide locks.
And like its 9mm sibling, the pistol includes safety features such as an orange magazine follower so shooters can easily detect an empty chamber.
The company is also working on a law enforcement version of its 9mm Nano pocket pistol introduced in September.
By Paul Clinton