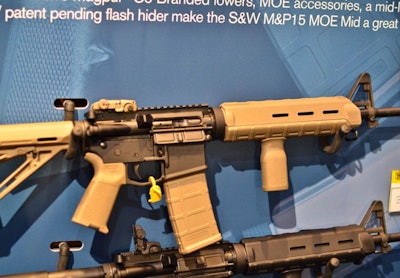 Smith & Wesson Corp. introduced two M&P rifles—the M&P15 MOE Mid and M&P15 VTAC II—equipped with Magpul and Viking Tactics accessories at SHOT Show in Las Vegas.
The rifles feature a mid-length operating system, proprietary flash hider, and other performance enhancements.
The new Magpul Spec Series of tactical rifles includes a co-branded lower receiver that's only available through Smith & Wesson. The first two rifles in the series consist of the M&P15 MOE Mid, which is available in black and flat dark earth configurations.
The M&P15 MOE Mid incorporates a newly added mid-length operating system that lowers recoil and improves second-shot probability.
The new co-branded, Magpul-designed forged lower receiver features a flared magazine well for easier reloading. For improved handling, the lower is also standard with a forward serrated edge on the magazine well, ambidextrous finger shelf, and one-piece integrated trigger guard.
The M&P15 MOE Mid comes standard with a 16-inch 4150 CMV barrel with a 1:8 twist and 5R rifling. For extended durability, the rifle's barrel has a Melonite finish; both the bolt carrier and gas key are chrome-lined. At the end of the barrel, Smith & Wesson has added its enhanced flash hider that's designed to "significantly reduce the flash signature of the rifle," according to the company.
The new M&P15 MOE Mid is standard with several Magpul features, which include a MOE six-position, collapsible buttstock and a modular MOE mid-length handguard. The rifle arrives with an MOE pistol grip and a removable MOE vertical grip (MVG). The new tactical rifle is also standard with a folding Magpul MBUS rear sight along with a traditional A2-style front sight. Each rifle is sold with one 30-round PMAG.
Smith & Wesson worked closely with Kyle Lamb of Viking Tactics to design the specifications for the M&P15 VTAC II. The new tactical rifle offers reduced recoil and improved accuracy based on the mid-length system. The rifle's 16-inch barrel is constructed of 4150 CMV steel and is standard with a 1:8 twist and a Melonite finish. The new tactical rifle also features 5R rifling.
The M&P15 VTAC II is available with a VTAC/Troy Extreme TRX Handguard that allows for quicker target transitions made possible by its lightweight, ergonomic design. The new handguard also helps to reduce heat transfer, while the multiple accessory slots provide a myriad of options for mounting accessories. Each M&P15 VTAC II is packaged with two, 2-inch adjustable Picatinny rails for convenient mounting on the forend.
At the end of the barrel, Smith & Wesson has added its patent-pending enhanced flash hider. The new flash hider helps direct gas and sound forward away from the shooter, while reducing the rifle's flash signature. The VTAC II lower is standard with a VLTOR IMod six-position, collapsible stock that extends the rifle to 36.75 inches and shortens it to 33.5 inches with the stock collapsed.
The M&P15 VTAC II is standard with an enhanced GeisseleSuper V Trigger that provides shooters with a light pull and quick reset. Additional VTAC branded features include a wide, padded two-point tactical sling along with a LPSM low profile sling mount. For illuminating targets, a VTAC light mount has been added to the setup. Each rifle is complete with a 30-round PMAG magazine.