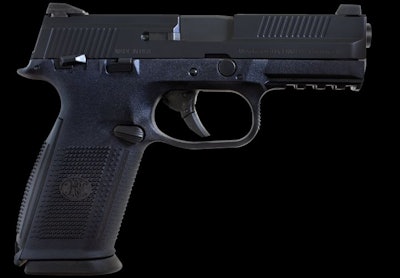 FNH USA will introduce the FNS-9 and FNS-40 striker-fired autoloaders for law enforcement at SHOT Show 2012 next week in Las Vegas.
The pistols will also be available in the commercial market, according to the company.
"The new FNS series of autoloading pistols was designed to be the most operator-friendly autopistol available intended to give America's law enforcement officers a decisive edge," according to Ken Pfau, senior vice president of FNH USA's Law Enforcement and Commercial Sales division. "After five years of design development and nearly a half-million rounds of testing, the FNS stands ready for duty with any agency, large or small."
The new FNS features a frame design that includes an ultra-low bore axis to reduce felt recoil and two interchangeable backstraps to personalize the grip fit to the user, according to the company.
A weapon light can be attached to the MIL-STD 1913 (Picatinny) underframe rail. The pistol's aggressive checkering grip pattern improves control under the harshest shooting conditions. The new FNS is fully ambidextrous, allowing the user to access and activate the manual thumb safety levers, slide-stop lever and magazine release button with either hand.