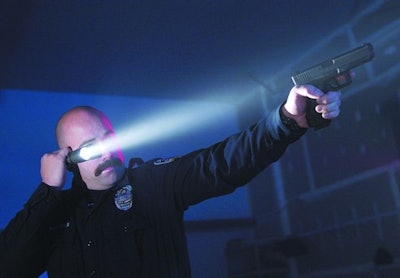 The vast majority of police shootings occur in low-light conditions. Even when officer-involved shootings happen during the day, they often take place in dark areas such as poorly lit warehouses, interior hallways, and inside shuttered buildings.
That's why light can be one of an officer's most valuable allies in close-quarter battle. A tactical light helps you identify and neutralize threats. It also prevents you from dropping the hammer on a fellow officer or a civilian who is not a threat. And when concentrated in the form of a laser, light can help you put rounds on target or even intimidate a potential attacker into backing down. Weapon lights and laser sights are not just lights, they are threat illumination.
Unfortunately, some agencies will not let their officers carry weapon lights because they are afraid the officers will get into the habit of pointing their sidearms at things just to light them up. Such a concern seems silly when you consider that officers can and should carry multiple lights in the field and officers are better trained than to just brandish guns at people when such treatment is not warranted. Fortunately, many other agencies encourage weapon lights, especially on long guns, and some issue handgun weapon lights to specialty officers such as SWAT and K-9 handlers.
Agencies also have similar prohibitions against laser sights. Some administrators see these tools as "too aggressive." Other agencies have said that laser sights are a crutch for officers who shoot poorly. The truth is while laser sights may look "aggressive" to some, they have a proven record of preventing gun battles. And despite what movies and TV have shown us, they do not guarantee accuracy. Proper grip and precise trigger control are still essential for putting rounds on target.
Related: