Since dusting off the Industry Day grit and hitting the show floor Tuesday morning, I've once again been overwhelmed with the amount of gear being displayed at the SHOT Show.
It doesn't seem to be a "year of the gun" but more of a "year of the gun stuff," as many of the firearms manufacturers seem to be circling the wagons a bit and simply giving some of their biggest hitters a facelift. That isn't to say there weren't a few standouts, though.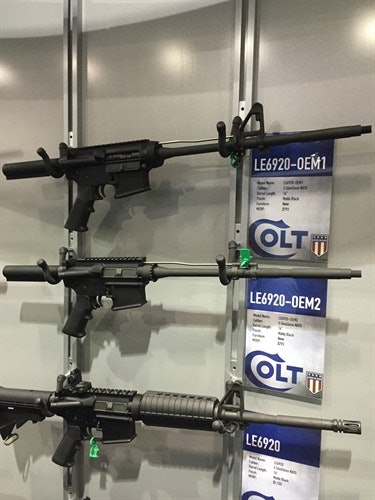 Colt came to the show this year with a few variations of its modular LE901 series of rifles, as well as a new configuration of the trusty LE6920 AR-15 rifle. The company has offered several different versions of this gun before, including such add-ons as Magpul furniture and rails, but this one was a clear departure. Believe it or not, the two new variations, dubbed the LE6920-OEM1 and LE6920-OEM2, are stripped down to their bare bones and coupled with a sweet price of $793. It looked strange to me at first, but it quickly made sense, as most AR15 owners strip their rifles down anyway in order to replace the stock parts with their aftermarket favorites. Why throw a bunch of Colt furniture in the trash when you can just let them keep it and start from scratch right out of the box? Very smart.
Burris Optics recently went through a rebranding campaign and with it has released several new optics. The XTR line of long-range rifle scopes definitely raises the bar for Burris quality and have put them into competition with veterans like Leupold and Bushnell's Elite Tactical line. Burris' 3-15x50 illuminated model comes in at just over $1,000, and if it can perform the way precision shooters need it to, Burris will have a winner. I may have to put one to the test soon and see for myself.
Speaking of long-range precision, Magpul has released a complete stock for the Remington 700 action. Dubbed the Hunter 700, this machined polymer stock includes an aluminum bedding block and is available with a bolt-action mag well for use with box magazines. The buttstock's fully adjustable, M-LOK mounting slots on the front allow for a variety of accessories or sling points, and it requires no bedding. Retail price is $259. Compared to the competition, this one is a smoking deal. Should be available in April.
Moving away from guns and on to gear the offerings are impressive. Point Blank Enterprises, a perennial powerhouse in the body armor industry, is about to kick out a couple of cool pieces of kit. The one that caught my eye is a modular plate carrier aimed at patrol officers and first responders for active shooter situations. Designed by an active duty patrol lieutenant, this new rig is different from the competition in its ability to not only don quickly, but also split into two halves for use by two officers. The front plate is retained by the original wearer but the back plate can be quickly detached and strapped to the front of another officer in mere seconds. All the straps are wide and super intuitive, so there are no fine motor skills involved. You're guaranteed to get it right even under stress. Now your backup is as protected as you are. Not sure about price but rumor has it they'll be available in a few months.
That's only the tip of the SHOT Show iceberg but I'm still here and there'll be much more to come. Stand by for the next two days.