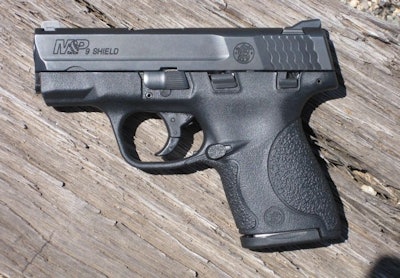 With its M&P Shield subcompact pistol, Smith & Wesson is revisiting a concept that once made history. The Shield hearkens back to the S&W Model 39, the first modern DA/SA pistol with a single column magazine and a thin grip.
That pistol, which was introduced in 1954, found immediate favor with the Illinois State Police and the Navy SEALs.
The Shield arrives as a descendant in a lineage that includes the Model 39, Model 52, and Model 59. The Shield provides a better trigger and greater accuracy than the full-size M&P duty pistol. Officers who use it will be able to do more with less. If I was a detective, I would carry two.
Even though the M&P Shield is manufactured in 9mm and .40 S&W caliber, the 9mm version offers softer shooting, and modern 9mm hollow-point ammunition is more effective than it once was.
Unfortunately, the M&P Shield is not being offered with factory night sights. I should also mention that even though the Shield is the only M&P pistol that does not come with an interchangeable grip system, no one involved in this field test complained about the ergonomics.
The moment I fired the 9mm M&P Shield for the first time, I had flashbacks of the old days when I carried a 9mm S&W Model 39 and a 9mm S&W 3913 on and off duty. As someone who has always enjoyed shooting pistols with a single-column magazine, I was impressed by the thin ergonomics of the Shield.
I was twice as impressed when the 9mm Shield that weighs a whopping 19 ounces unloaded proved to be comfortable to shoot with a variety of standard velocity 124-grain and 147-grain Winchester and ATK/Federal ammunition. I was even more impressed when the M&P Shield also proved to be an easier pistol to consistently shoot with more precision than a full-size 9mm M&P pistol. This level of accuracy is coming from a striker fired M&P Shield with a 3.1-inch barrel as opposed to a full-size 9mm M&P with a 4.25-inch barrel. Impressive.
While the full-size 9mm M&P is as combat accurate as any police pistol I've handled, the 9mm M&P Shield is an easier pistol to shoot with more precision. I can only assume that the Shield's ability to perform like a target pistol comes from the improved striker-fired trigger system, outstanding ergonomics, easy-to-control level of recoil, and my preference for pistols with a narrow grip and single-column magazine.
Two different 9mm M&P Shields were tested during four range sessions by six shooters, including myself; a city police officer; a newly hired federal officer; a Class 3 SOT (Special Occupational Tax) firearms dealer; and two former armed security contractors, including one who previously worked for a local sheriff's department as a detention lieutenant.
Members of the test team recorded stellar accuracy with the Shield. Shot groupings varied from "connecting the dots" to two- and three-inch groups. Everyone put all rounds fired in the scoring area of a TQ19 or a TCQ-94A Michigan Law Enforcement Training Council Qualification Target. Members of the test team also had no problem using the 9mm M&P Shield to consistently engage a metal plate roughly the same size as the scoring area of a TQ19 Police Qualification Target from various safe CQB distances. I also found it to be easy to execute combat reloads with the S&W Shield using spare seven-round magazines.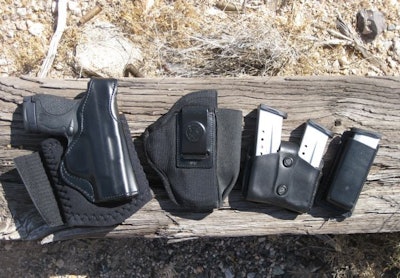 While field testing the 9mm M&P Shield, I carried this pistol for several weeks in a DeSantis N87 Pro Stealth inside the waistband nylon holster with a single magazine pouch attached to the front of the holster. The DeSantis N87 fastens to my pants belt using a fairly wide metal clip that holds the holster firmly and comfortably in place for hours.
My two favorite magazine pouches are the DeSantis AO1 black leather double magazine pouch, which attaches to a pants belt with two snaps, and the DeSantis A47 black leather single magazine pouch that fastens to a pants belt with a metal clip.
I carry seven-round 9mm M&P Shield spare magazines in my DeSantis magazine pouches and only used the eight-round magazine with a finger extension attached to the floor plate when I carry the Shield in my DeSantis N87 holster. I haven't experienced any problems operating or concealing the M&P Shield or any of the five spare magazines for this pistol.
While wearing long cargo pants, I carried the 9mm Shield test pistol in a DeSantis Die Hard Ankle Rig (style 014). The Die Hard holster offers a thumb break safety feature and is the most comfortable ankle holster I've ever worn.
When I first heard about the Shield, I figured that if all went well with my test and evaluation, this pistol would probably make an excellent backup gun, an off-duty gun, or an outstanding undercover pistol. The Shield surpassed my expectations after testing it with an ample number of rounds of FMJ and law enforcement hollow-point ammunition.
I like the Shield so much I would carry it on duty if I was still working in plainclothes. I worked in high crime areas while armed with a six-shot .38 Special S&W service revolver and a five-shot .38 Special S&W revolver as a backup gun. Even when I transitioned to a 9mm and .45 ACP pistol, I often carried models with a single-column magazine.
My biggest complaint with the M&P pistols, including the Shield, is that you can't walk into a gun store or a police supply store and find one with factory installed night sights.
The M&P Shield arrives with an outstanding striker-fired trigger and a noticeable reset. While the full-size M&P pistols have many fine attributes including their excellent ergonomics, a standard M&P pistol doesn't have a trigger system that's as good as the striker-fired trigger system in a Glock or a Springfield Armory pistol.
Nick Jacobellis is a medically retired U.S. Customs Agent and a former police officer who was physically disabled in the line of duty while working as a federal agent.
Related:
Smith & Wesson M&P9 Shield Subcompact Pistol
PHOTOS: S&W's Shield Subcompact Pistol
VIDEO: S&W's M&P Shield Pistol