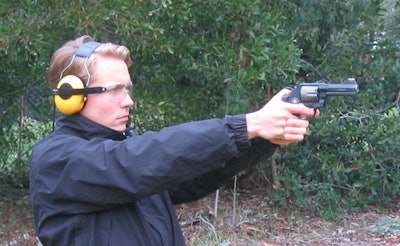 All of us range rats spend a lot of time wearing eye and ear protection. We all have a preferred configuration of the two and sometimes our preference changes depending on the type of training we're doing; ball-cap versus helmet, for example. One of my biggest frustrations (and evidently I'm not the only one) is the sound intrusion that occurs because of my sunglasses when wearing earmuffs. I've fought with this for years and even purchased glasses specifically for their slim stems to mitigate this issue but I had yet to find the perfect solution.
FullPro Protective Gear has a solution called SoundVision that eliminates this annoying problem completely.
Sound Vision is a simple but very clever product that takes a pair of clear, smoked, or amber high-impact rated lenses and attaches them to the outside of your earmuffs with Velcro straps. No more sacrificing a good ear protection seal due to your eye protection.
The company sent me a pair of the smoked lenses a few months ago and since then I've yet to run a range without them. They provide great clarity, unobstructed field of view, are comfortable to wear, and clean up easily with the included cloth. And with a price of $25 on Amazon.com they're a heck of a lot cheaper than most sunglasses out there. Check them out at www.fullpro.com and your hearing will thank you.