This year's SHOT Show kicked off the way it always does with a trip to the Boulder (Nev.) Rifle and Pistol Club. Just about everything that is making it's debut at the week's show is on hand and ready to be put through a hard day of work. There are a million great ideas at the show every year but not all of them are as great in practice. This is where the manufacturers get a chance to prove to the world that their "greatest new thing" is truly that.
The Rifle and Pistol Club is huge 364 days a year. For this one particular day it gets much bigger. Broken down into categories, there are several ranges for each discipline; long range shooting, pistol competition, tactical, sporting clays, and several other "off-line" booths and vendors displaying their shooting and hunting accessories.
The biggest challenge for me was to narrow down those firearms and products that are applicable to law enforcement and try to keep my eye from wandering to those I think would just plain be fun to shoot! Although admittedly I did partake in a few of those, too.
I spent the entire day out there and tried to soak in as much as possible. Here's a breakdown of what caught my eye this year.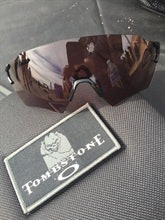 Right off the bus I attended a media event with Oakley where the company unveiled its new Tombstone shooting and tactical glasses. These are a result of several years worth of research and testing in an effort at producing the optimal eyewear for shooters. The lenses themselves are a reddish pink color made from patented tint formulas, and do an amazing job of filtering out all of the light that hinders performance while enhancing all of the colors and light that enhances a shooter's ability to put in work. The frames are super lightweight and the lenses are cut of a single piece with a profile designed to cover the shooter's eyes completely without creating any blind spots common in other frames. I had the chance to crank off a few rounds after the presentation and was super impressed. I had no idea how relaxed my eyes would feel in bright sunlight, all the while seeing colors pop like never before. All of Oakley's research definitely paid off here.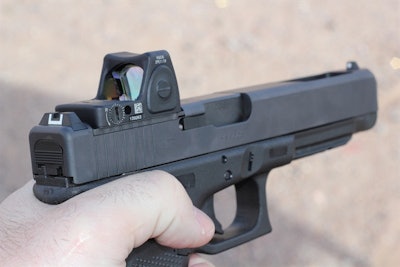 Pistols were the next on the list and naturally I found myself attracted to the Glock range. This year Glock unveiled a few new tactical models to their pistol line. The G40 is the newest from-the-ground-up pistol, a 10mm beast with a 6-inch barrel and increased capacity. This hand cannon likely isn't a duty contender, as the ammo is expensive and not everyone has the muscle (or desire) to shoot it. The other two were similar frames in 9mm and .40cal. All three have the upper slides milled to accept a micro optic like the Trijicon RMR and made quick target acquisition a breeze. After a couple of quick presentations, I was picking up the dot immediately and two-eye-open shooting was reflexive. No word on a 9mm version of the subcompact, single-stack G42 though. Introduced in .380 last year, we had all hoped the 9mm version would be soon to follow. No such luck.
A not so well known Dubai gun maker named Caracal has garnered my attention for several years now but their guns have been largely unavailable in the United States. Their polymer CP660 9mm pistol is one of the finest I've shot to date. With a low bore axis and incredibly ergonomic grip the gun feels like an extension of my hand. It ran like a champ. If they can import enough of these I can see them finding their way into a few duty holsters for sure.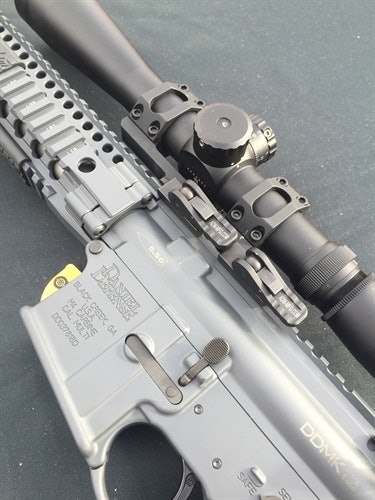 The rifle sector was largely unimpressive with a few exceptions. Daniel Defense, admittedly one of my favorites for many reasons, unveiled a new 3-gun rifle and a version of the Navy's MK12 precision gun (a full "Arsenal" review is on the way for that one; stay tuned). DD also showcased its new key-mod rail system for all of its guns. For those of you in the dark, key-mod is what I would consider the future of accessory attachment for rifles. One smooth barrel shroud allows for an almost infinite number of mounting points via the key-shaped holes milled into it. Gone is the excessive 1913 rail, most of which served little purpose except to chew up gloves and add weight.
FN's new line of AR-15's, a few ported Smith & Wesson M&P pistols and SIG Sauer's MCX rifles rounded out the best of the best. We can always hope the SIG MPX unveiled a few years ago will finally make it to production this year. The MCX, chambered in .300BLK and 5.56mm will do in the meantime.
Having inhaled enough range dust and spent powder to last me a month I boarded the bus with a smile on my face and the show hadn't even started yet. Stay tuned for news and events from the show floor.