The POLICE editorial staff is spending the week in Las Vegas at the annual Shooting, Hunting, and Outdoor Trade (SHOT) Show.
Our coverage so far has included Senior Editor Wayne Parham's hands-on experience with new firearms at the Industry Day at the Range and our staff's favorite items from the first day of exploring the exhibit floor. Today's coverage includes our favorite items from day two of walking the aisles.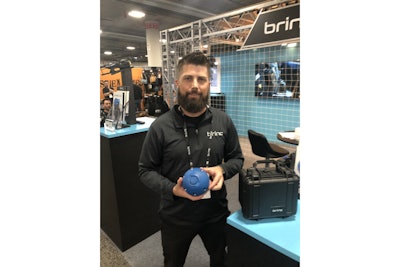 DAVID GRIFFITH
Brinc
Next Generation Throw Phone
The actual product name is the Brinc Ball, but this latest item from Las Vegas-based Brinc is a spherical hard plastic throw phone. Weighing just under two pounds, the Brinc Ball has a mic and speaker for two-way cellular communications. Talk time is 24 hours and users can switch out SIM cards as needed. For quick retrieval or redeployment, users can attach a paracord to the Ball.
Safariland
SafariVault Holster
The new line of SafariVault holsters from Safariland is designed to reduce the danger of gun grabs. Safariland says the SafariVault has the strongest holster body that it has ever built, so it can withstand impacts and twists from any direction. An improved ALS retention design reduces flex and facilitates a proper draw. Features include an optic cover that accommodates open and closed emitter pistol optics. A magnetic holstering guidance system stabilizes the slide while holstering.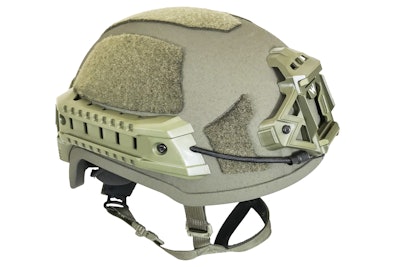 Team Wendy
Next-Generation Law Enforcement Helmets
The new Team Wendy law enforcement helmet series features three models designed for patrol, mobile field force, and specialist operators. The Patrol helmet features a front cover plate, Team Wendy 8-pad Zorbium liner system and upgraded H-back retention system. The Mobile Field Force (MFF) helmet offers the front cover plate, adds on Team Wendy's new reverse dovetail accessory rails, and features the Epic Air Fit Liner System, and no thru-hole CAM FIT retention system. The Specialist helmet is outfitted with an aluminum NVG shroud, new reverse dovetail rails, exterior Velcro loop patches, Epic Air Fit and CAM FIT, and includes the Shock Cord Kit. The new helmet series features lightweight high-performance material paired with our Team Wendy liner systems for premium comfort. Multiple shell cuts are available for each of the helmet models for ultimate flexibility. The new line of ballistic police helmets is a result of synergies between Avon Protection, Team Wendy and Avon Protection Ceradyne, the company says.
Thales
Night and Day Weapon Sight
The Thales XTRAIM Weapon Sight combines infrared capability with a holographic CQB sight for night and day operations. Officers can use the infrared capability to locate suspects in concealment positions and the CQB sight to engage suspects, if necessary. The infrared capability can also be used for surveillance, locating items that are warmer than their surroundings, and tracking operators wearing IR markers or lights. The combination weapons sight weighs a little bit more than one pound.
WAYNE PARHAM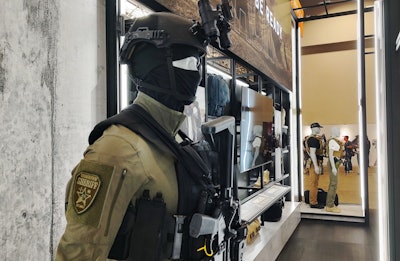 5.11 Tactical
Tactical Uniforms
The initial offering of the 5.11 Tactical V.XI Collection includes the XTU Line highlighted by the XTU Pant and the XTU Rapid L/S Shirt. The XTU Pant will be feature-packed to maximize performance, function and versatility. It's constructed with Ortholite foam support in the strategically offset comfort waistband, a gusseted crotch and seat, large cargo pockets, and no-melt/no-drip fabric to make it withstand the rigors of professional use. It also features a patented 3-in-1 kneepad design with a color-matching and removable external knee protection piece. The XTU Rapid L/S Shirt will offer moisture-wicking and anti-odor performance, a Teflon finish and no-melt/no-drip fabrics for added functionality and protection. Dual pocket sleeves, adjustable cuffs, articulated pits, reinforced elbows and bar-tacking at key stress points will ensure the functionality needed by elite team units.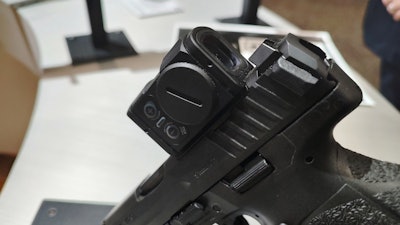 Aimpoint
Handgun Optic
Aimpoint's next generation sight incorporates an improved LED emitter coupled with a higher capacity CR2032 battery to provide five years (50,000 hours) of constant-on power. The Acro P-2 is designed to endure the physical forces generated by semi-automatic pistol slides and the Acro series was the first pistol sight to offer a fully enclosed optical channel to protect the LED emitter.  Built to exceed the requirements of professional users, the Acro P-2 has been tested and proven to withstand the extreme shock, vibration, temperatures, and material stresses generated by firing over 20,000 rounds of .40 S&W ammunition.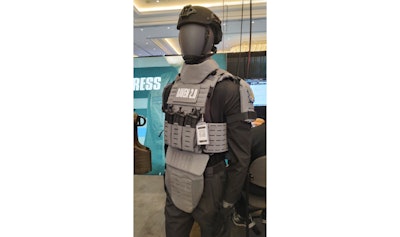 Armor Express
Tactical Entry Vest
Armor Express displayed it's new Raven 2.0, a modular tactical entry vest with integrated thermal management technology. It features front and rear Integrated I.C.E. Ventilation System with EVAP technology by Body Armor Vent, MBAV ballistic cut, 360-degree Raschel mesh construction, a fully adjustable, streamlined shoulder strap system, and advanced shoulder pads with routing channel. The Raven 2.0 has top loading with exterior accessible front and rear plate pockets.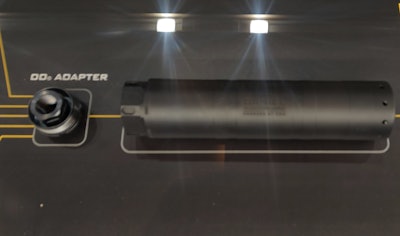 Daniel Defense
Soundguard Suppressor
Daniel Defense debuted the Daniel Soundguard that is powered by KGM Suppressors and uses state-of-the-art technology to significantly lower impulse noise levels. A patent-pending baffle stack combined with a proprietary coating on internal parts reduces a firearm's flash signature to virtually zero. The suppressor is 100 % made in the U.S. and uses a gas-flow design that eliminates over-gassing and decreases toxic gas directed back at the shooter's face. The patent-pending gas-flow pathing enhances a round's stability, resulting in minimal point-of-impact shift. The family of suppressors contains the Daniel Soundguard SG-556, Daniel Soundguard SG-30, and Daniel Soundguard SG-30TI.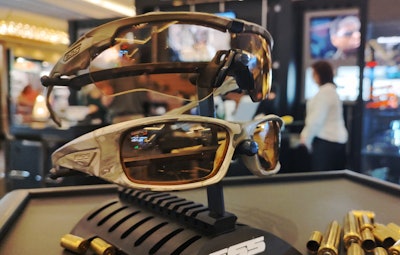 ESS Eye Pro
New Color/Pattern
ESS Eye Pro unveiled a new Spin Camo color/pattern for the 5B Series, Crossblade, and Crossblade NARO. Through a patented process, colors are applied to the product frame while it spins rapidly. The result is a unique camouflage pattern that can be used for hunting or any covert activity. The innovative 5B represents the culmination of years of intense listening to customer feedback. The end result is a sunglass that is trusted just as much on duty as off.