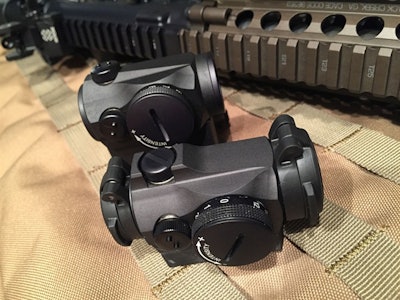 The good people at Aimpoint don't come out with a new product very often, but when they do all of us in the firearms industry take notice. Such is the case with the long-anticipated and recently released Micro T-2 red-dot optic. The original T1 was released in 2007 and immediately redefined the term "compact" as it refers to optical sighting systems. Fast forward to 2014 and Aimpoint has taken a proven winner and made it even better by adding flip-up lens caps, increased protection for the windage and elevation turrets, and a new lens coating to enhance clarity. I received one of the first T-2s to roll off the assembly line and I couldn't wait to check it out.
Right out of the box the T-2 checked every box on my T1 wish-list. The improved lenses are now protected by flip-up covers and the turrets are protected by better caps and beefed-up surroundings. The new lens coating (and I have to say, the old one was pretty impressive) is also a notable improvement with a wide field of view and crystal clarity. All of the original T1 awesomeness is still here too, including 50,000 hours of battery life, 12 brightness settings, NVG compatibility, 80-foot water resistance, and a hard-anodized finish. All packed into an optic weighing a mere 3 ounces.
Needless to say, the T1 on my duty rifle was quickly dethroned and the T-2 immediately took its place. After a quick range session to get it zeroed, my rifle went back into service without missing a minute of 10-8 time. Why is this important to note? Because I make life and death decisions with my rifle and trust in my equipment is paramount. I've run Aimpoints for over a decade. I have them on my personal guns, I've equipped my agency's entire 100-rifle arsenal with them, and I have yet to see one fail. As I slipped my rifle back into its case there wasn't a doubt in my mind about the T-2's ability to stand up to anything my job could throw at it. Trust me; there will be plenty of range time in the T-2's future.
If you've never checked out an Aimpoint you don't know what you're missing. The T-2 comes with a low-rise Picatinny mount, a two-year warranty, and an MSRP of $846. If your "must haves" for a duty optic include reliable, compact, simple, and bulletproof, the T-2 could be the answer. Check it out at www.aimpoint.com.
A.J. George is a patrol sergeant with the Scottsdale (Ariz.) Police Department who also serves as the SWAT team's crisis negotiation supervisor.