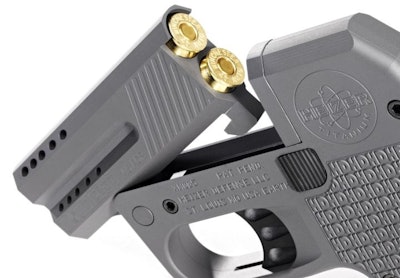 A year after announcing the DoubleTap pocket pistol as an innovative backup gun for officers, the pistol's inventor issued a press release that Heizer Defense won't be able to produce the gun.
Raymond B. Kohout, who previously owned a retail firearms store in the St. Louis metro area, said he has received "tens of thousands" of orders for the slim, two-shot pistol. Kohout said he couldn't elaborate on why the gun wouldn't be produced due to pending litigation.
The DoubleTap was unveiled as a slim and light pocket pistol available in .45 ACP or 9mm with a four-round capacity. Heizer initially touted the pistol's unusual break-action feature and ambidextrous thumb latch controls. Heizer planned to produce it at a former aerospace facility.
The pistol would "incorporate space-age high tensile alloys," according to the initial press release. The pistol would have retailed for between $499 and $799.
Commenters on PoliceMag's coverage of the pistol expressed interest in the gun, but generally said it wouldn't be practical as a backup gun for officers.
"Unless it is extremely cheap, why would anyone consider this as a backup weapon or CC (concealed carry) weapon," M. Conner wrote on Oct. 25, 2011. "I guess something is better then nothing. But I would bet for the price of this 'space age' looking weapon, you could purchase a backup that is proven with multiple shot capacities."
Kohout said he hoped to find a manufacturer for the pistol.
"It is our intention to immediately license the design to a leading firearms manufacturer or to align with another manufacturing source to produce the DoubleTap," he wrote. "We intend to accomplish this as quickly as possible to satisfy the huge demand for the DoubleTap pistol."
Related: