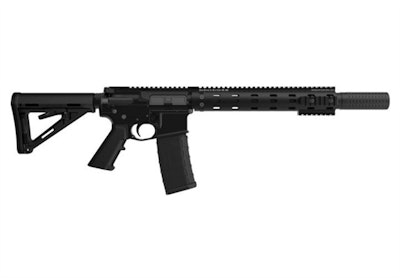 The 1997 North Hollywood bank robbery identified a need in law enforcement agencies for an AR-type patrol rifle in an urban environment.
Since that incident, active shooters and counter-terrorism threats presented in the 2008 Mumbai attacks have increased the need for AR-type weapons for basic patrol operations. In January, Daniel Defense introduced the ISR (Integrated Suppressed Rifle), a production AR-platform DDM4 chambered in .300 Blackout.
Historically, suppressed rifle systems in law enforcement have been reserved for SWAT operators. SWAT teams once used a H&K MP5 for entry situations; these were often equipped with a suppressor. SWAT teams started changing over to the AR platform in the late 1990s and early 2000s. However, very few of these AR-equipped SWAT teams had suppressed ARs in their inventory. Perhaps, because many SWAT teams use some type of communication system that also protects their ears, they didn't identify a need.
Now that many patrol officers are commonly equipped with the AR platform, these officers and their trainers have identified a valid concern for high frequency decibel gunfire generated by these weapons. The basic 18-inch M16/M4 produces about 160-165 decibels of peak noise. This is especially concerning in confined spaces such as a police car, urban business building, or residence because that high-decibel muzzle blast is reflected and increased with multiple shots fired. Any exposure to noise over 140db causes immediate and irreparable hearing loss, according to the National Institute for Occupational Safety and Health (NIOSH).
In 2009, the most common impairment for military veterans was hearing loss with annual payments that exceed $1.1 billion, according to the January 2011 GAO Report to Congressional Committees.
Responding patrol personnel typically do not use range-type hearing protection when they don personal protective equipment (PPE). Anyone without hearing protection who has experienced the muzzle blast of an AR platform in close proximity knows it can be extremely loud and painful. Continued firing in a confined area will certainly have a negative impact on your hearing.
To prevent hearing loss, a few progressive law enforcement agencies have equipped their patrol officers with suppressed AR platforms. The Tempe (Ariz.) Police Department was a leader in this area in 2008 when they started to equip all their patrol rifles with suppressors. A large agency in southern California is now considering allowing its AR-equipped officers to purchase their own suppressor with the primary intent of preventing hearing loss.
Law enforcement agencies provide many types of PPE to their officers, including body armor, ballistic helmets, ballistic door panels, and air purifying respirators. It's time to seriously consider providing officers an AR suppressor to protect their officers' hearing.