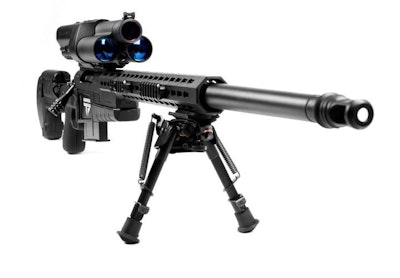 The military has long relied on the highly-trained sniper calculating his shot with minimal tools to keep it real for field work. Law enforcement agencies have also invested many hours of training so their snipers can master mil dots or other reticle-ranging systems to make accurate shots with minimal use of electronic aids.
A technology company based in Austin, Texas, hopes to change this status quo.
Tracking Point Innovations has mounted "smart" aiming technology to a custom rifle that includes a computerized 6-35X telescopic scope with heads-up display (HUD) linked to a "guided trigger," Wi-Fi server, microphone, compass, laser range finder, inertial measurement, ballistic calculator, tracking engine, and environmental sensors.
The technology enables operators to lock on a target and record a video of everything on the display with the help of an iPad or smart phone. The company boasts hits out to 1,200 yards every time. The complete package including a rifle and custom precision ammunition starts at $22,500!
Does the highly technical "smart" Tracking Point system mark a milestone breakthrough for LE and the avid hunter? When I questioned county and city SWAT operators, they responded with, "Maybe" and "We'll see."
Today's SWAT operator is highly technical and cross-trained in different operational areas that require many hours of training to maintain their certifications and proficiency. Their initial concerns about a "smart" rifle system fell into a few areas. First, will it hold up under hard use and then work as designed when they need it? So it can improve the hit-to-miss ratio. Great, but is it worth it at that price tag? A SWAT sniper rifle dressed out typically costs between $5,000 and $7,000, and most LE agencies work on a fairly tight budget these days.
While a SWAT sniper's typical engagement distance is less than 100 yards, there is always the chance of a miss during a critical moment. A missed shot in a critical police operation can result in several disastrous outcomes, especially when hostages are involved. This "smart" optic will not let you break the shot until the threat is aligned with the system's optics technology unless manually switched off. Again these are issues to weigh out before a "smart" rifle moves into the "got to have it" column.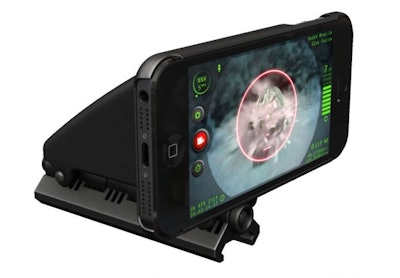 Would a complete video of the shot be something beneficial to police personnel? In today's environment, a video of almost any police action is typically captured from different media sources including the public's many cell phones that often don't accurately represent the officer's point of view. In-car police video has been a double-edged sword that's mostly benefitted law enforcement. The graphic nature of a sniper shot could be disconcerting for the viewing public regardless of the circumstances.
If the $22,500 staring price is too high for police agencies, perhaps they would consider the less-expensive Inteliscope Tactical Rifle Adapter that turns your iPhone or iPod touch into a heads-up display with many of the same features as the Xact System. The Inteliscope app costs less than $100. You may not get the same long-range target lock accuracy but you can experience a similar smart-rifle system without the hefty price tag.