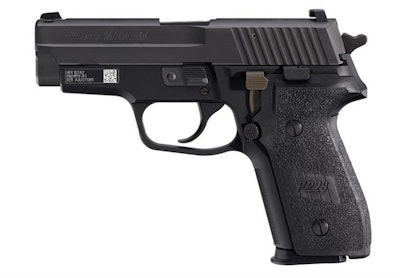 Even though many law enforcement agencies now carry the P226, P229, or P239 in .40 S&W and .357 SIG caliber, SIG Sauer pistols in 9mm still remain popular. Perhaps recognizing this, SIG produced the M11-A1, an upgraded version of the P228 (or M11 when carried by soldiers).
The M11-A1 is basically a P228 with a blackened stainless steel slide, Sig Lite night sights, phosphate coated internal parts, a set of Sig Lite night sights, a short reset trigger, and a blackened alloy frame. The M11-A1 is also shipped with three high-capacity 15-round Parkerized magazines.
The M11-A1 I tested proved to be an upgraded version of the original P228. While testing the M11-A1, I engaged a TQ19 police qualification target from various CQB distances and had absolutely no problem delivering accurate shot placement including head shots while using 147-grain or 124-grain Winchester or Federal ammunition including hollow-point service ammunition.
During my law enforcement career as a U.S. Customs agent, I carried a P228. Since I retired, I've put plenty of training and service ammunition through at least four different P228s and one M11 and have never experienced a stoppage or malfunction. One of the P228s that I currently carry once served as a Swiss police service pistol. Even though this pistol was made in the 1980s, it continues to function flawlessly.
I purchased the gun from a federally licensed firearm dealer, who added new slide pins, a factory spring upgrade kit, and a new pair of Sig Lite night sights. Despite its age, my used Swiss police pistol has continued to function just as reliably as any of the other P228s that I've field-tested. When SIG Sauer transitioned to manufacturing their slides with a one-piece block of stainless steel, the original P228 continued to be produced with a carbon steel slide.
After the U.S. Armed Forces adopted the 9mm Beretta M9 as the primary personal defense weapon for most military personnel, the Department of Defense selected the P228 as the compact personal defense weapon for selected personnel. This included general officers, military special agents, and naval aviators. With the exception of the finish, the M11 is basically a P228 with a carbon steel slide, a component firing mechanism, 13-round magazines, and an alloy frame. The M11 that I field-tested was another P228 variant that proved to be accurate and flawlessly reliable.
The P228 and now M11-A1 have been the most reliable compact pistols ever made. You should consider it, if you're in the market for a well-made compact 9mm pistol with a tremendous track record for reliable service.
Nick Jacobellis is a medically retired U.S. Customs agent and a former police officer who was physically disabled in the line of duty while serving as a federal agent.
Related: