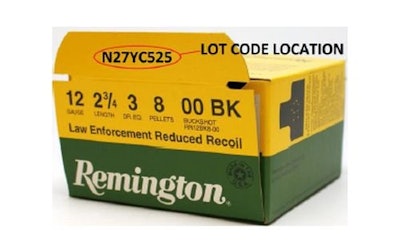 Remington Arms has issued a recall for several lots of its reduced-recoil law enforcement 00-buck ammunition, according to an announcement on the company's website.
Certain lots of this ammunition may contain improper propellant charge weights, according to Remington. Improper propellant charge weights may cause malfunctions, resulting in damage to the firearm, serious personal injury or death.
The lot number can be found stenciled on the outside of a case or stamped on the inside flap of the box. Recalled lots include N27YC525, N29YA525, P02TA525, P03TA525, P06TA525, N28YC525, N29YB525, P02TB525, P03TB525, P08UB899, N28YB525, N29YC525, P02TC525, and P05TB525.
If you're agency is using these lots, contact Remington here.