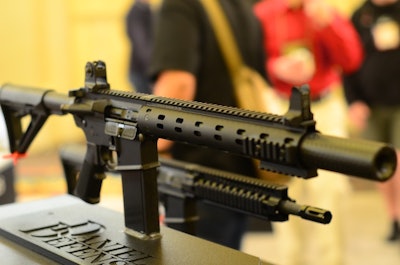 AR specialist Daniel Defense introduced an AR-type rifle at SHOT Show chambered in 300 AAC Blackout with an integral suppressor designed for officers in close-quarter battle encounters.
The ISR (Integrated Suppressed Rifle) arrives with a 16-inch barrel and stainless steel suppressor that can't be removed. Rifling is set at a 1:8 twist rate. The rifle is designed to reduce noise and muzzle flash during dynamic entries and other tactical scenarios.
"It's hearing safe when you use subsonic ammo," said Matt Allbritton, a company rep. "Flash and noise inside a building is bad for everyone around you."
The ISR is equipped with a Picatinny rail, standard A-4 upper receiver, and three modular rail sections. The rifle will begin shipping in April and will retail for $3,199.