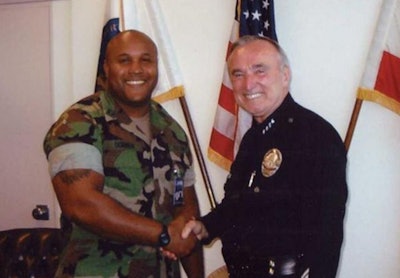 Los Angeles Police Chief Charlie Beck urged a former LAPD cop suspected of killing 3 people, including a Riverside (Calif.) Police officer, and wounding several others, to turn himself in, at a Thursday morning press conference.
Chief Beck said the manhunt for Christopher Dorner, 33, was "extremely worrisome and scary" because the former officer is armed and dangerous. The former Navy reservist has several weapons at his disposal including an assault rifle, reports the Los Angeles Times.
"I would tell him to turn himself in," Beck told reporters. "This has gone far enough. No one else needs to die."
Related:
Navy: Iraq Vet Dorner Excelled In Pistol, Rifle Handling
Burned-Out Truck Linked to Fugitive Ex-Cop
Riverside Chief: Ex-LAPD Cop Is 'Depraved' and 'Cowardly'