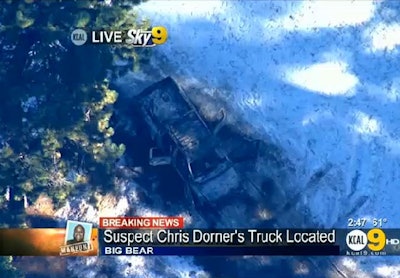 Officers searching for an ex-LAPD cop wanted for three murders moved their search to the Big Bear area after locating a burning pickup truck they have linked to Christopher Dorner, reports the Los Angeles Times.
A gray Nissan Titan was located in the snow of Big Bear that has been linked to Dorner, who was last seen wearing military fatigues. There have been multiple sightings of Dorner in Big Bear.
Shortly after noon, the Bear Valley School District locked down their schools.
Related:
Navy: Iraq Vet Dorner Excelled In Pistol, Rifle Handling
Riverside Chief: Ex-LAPD Cop Is 'Depraved' and 'Cowardly'
LAPD Chief To Ex-Cop: 'No One Else Needs To Die'