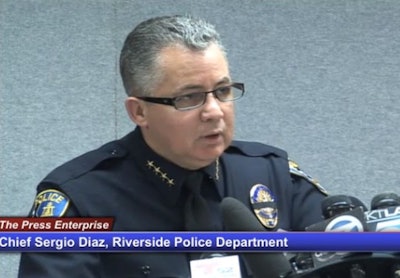 An ambush that left one Riverside (Calif.) Police officer dead and another wounded was a cowardly act of a depraved individual, Chief Sergio Diaz told reporters at a Thursday press conference.
Chief Diaz, himself a former LAPD officer, urged reporters not to publish the name of the two officers who were attacked early Thursday by former LAPD cop turned serial killer, Christopher Dorner.
The chief said the safety of officers' families could be at risk, because Dorner has made law enforcement families "fair game" in his rampage, the chief said. He allegedly killed a former LAPD colleague's daughter and her fiance in Irvine.
Dorner allegedly ambushed the two officers shortly after a shootout with LAPD officers in Corona. A wide-ranging manhunt involving local, state, and federal agencies is now underway. Dorner had published a manifesto airing his grievances against LAPD officers he blamed for his firing in 2009.
"My opinion of the suspect is unprintable," Chief Diaz said. "The manifesto I think speaks for itself in terms of evidence of a depraved and abandoned mind and heart, and the cowardly way that he ambushed your public servants speaks to his character."
Related:
Navy: Iraq Vet Dorner Excelled In Pistol, Rifle Handling
Burned-Out Truck Linked to Fugitive Ex-Cop
LAPD Chief To Ex-Cop: 'No One Else Needs To Die'