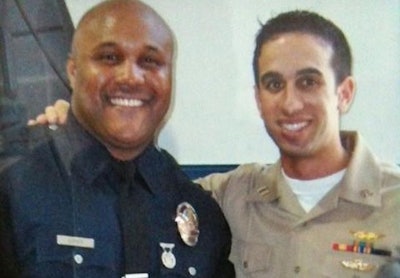 SWAT teams searched near a rugged San Bernardino ski resort late Thursday for a fired LAPD officer who shot three officers, including one fatally, in a rampage across Southern California.
Local, state, and federal authorities are searching for Christopher Dorner, 33, who threatened "unconventional and asymmetrical warfare" against police in an manifesto posted on his Facebook page, reports the Los Angeles Times. He was fired by the agency in 2009.
Earlier in the day, the California Highway Patrol issued a "blue alert" for the Nissan Titan driven by Dorner. Authorities found the Titan Thursday afternoon as a burned-out shell in Big Bear, where Dorner was reportedly spotted.
Dorner's suspected rampage came less than a day after the Irvine Police Department named him as a suspect in the killing of a former LAPD captain's daughter and her fiancé, a USC campus police officer. In his manifesto, Dormer reportedly blamed the captain for his firing.
The chain of events began at about 10:30 p.m. Wednesday, when Dorner allegedly attempted to steal a 47-foot boat at the Southwestern Yacht Club in Point Loma, San Diego, in an apparent attempt to escape to Mexico. His LAPD badge was found nearby, reports the Los Angeles Times.
At about 1:30 a.m. Thursday in Corona, Dorner engaged two LAPD officers assigned to a protection detail for someone mentioned in his manifesto. During a shootout, one officer suffered a grazing head wound.
Sometime later, Dorner ambushed two Riverside Police Department officers in a cruiser at a stop light. One officer was killed; the second was wounded in the attack. During a news conference, Riverside Police Chief Sergio Diaz said the shooting was the cowardly act of a depraved individual.
LAPD Chief Charlie Beck told reporters that Dorner was heavily armed and should turn himself in. "This has gone far enough," Beck said. "No one else needs to die."
A Navy reservist, Dorner was fired from the LAPD in 2009 for making false statements about his field training officer. He was hired in 2005.
Dorner is a decorated Iraq War veteran who won commendations for pistol expertise and rifle marksmanship. In his manifesto, he vowed to use his military training to wage a war of attrition against his former department and said he would "utilize every bit of small arms training, demolition, ordnance, and survival training I've been given."
Related:
Navy: Iraq Vet Dorner Excelled In Pistol, Rifle Handling
Burned-Out Truck Linked to Fugitive Ex-Cop
Riverside Chief: Ex-LAPD Cop Is 'Depraved' and 'Cowardly'