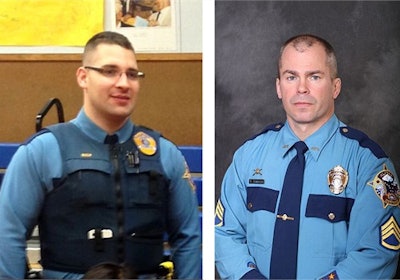 The Tanana, Alaska, tribal government has voted to banish two men from the community for their indirect role in the killing of two Alaska State Troopers last week.
By a unanimous vote, the five members who were present on the seven-member council voted Tuesday night in support of a lifetime banishment for Tanana residents Arvin Kangas and William Walsh, Curtis Sommer, chairman of the Tanana Tribal Council, told the Fairbanks News-Miner.
Arvin Kangas, 58, is the father of Nathanial "Satch" Kangas, who is accused of killing the two troopers. Walsh is the leader of a small group known as the Athabascan Nation that rejects the authority of the Alaska state government and has also clashed with the elected tribal government in the largely Koyukon Athabascan community of about 240 people.
"We feel that individuals are accountable even though it was not them that shot the troopers. It was their rhetoric. They more or less brainwashed the young man (Nathanial)," Sommer said at the tribal council office Wednesday.
Arvin is in jail in Fairbanks on a misdemeanor assault charge. In an incident that preceded the killing of Sgt. Scott Johnson and Trooper Gabe Rich on the afternoon of May 1, Arvin allegedly pointed a shotgun at Tanana's unarmed village public safety officer on April 30. Rich and Johnson were part of a four-man remote unit that does law enforcement in 23 villages. They flew into Tanana on May 1 to assist the VPSO and were trying to arrest Arvin when Nathanial allegedly fired at them seven times with a rifle.
See Related Stories:
Two Alaska Troopers Shot, Killed in Remote Village
Alaska's Village Public Safety Officers