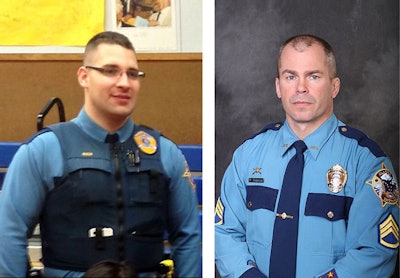 Two Alaska State Troopers were killed in the Yukon River village of Tanana Thursday while conducting an investigation, said a troopers spokeswoman.
The troopers were identified as Sgt. Patrick "Scott" Johnson and Trooper Gabriel "Gabe" Rich, both members of the Fairbanks Rural Service Unit, the Anchorage Daily News reports.
Johnson and Rich had gone to Tanana Thursday to follow up on a report that a suspect had brandished a firearm in the village the night before, said Megan Peters, troopers spokeswoman.
According to an agency press release, two men have been taken into custody in Tanana by the Alaska State Troopers.
Nathanial Lee Kangas, 19, of Tanana, is under arrest for the murder of Troopers Johnson and Rich. Formal charges for Nathanial Kangas are being prepared by the Alaska State Troopers with the help of the Office of Special Prosecutions and Appeals.
Arvin Morse Kangas, 58, also of Tanana, was charged with assault in the fourth degree and driving with a license revoked. These charges stem from an incident with a Tanana village public safety officer (VPSO) on April 30, 2014.