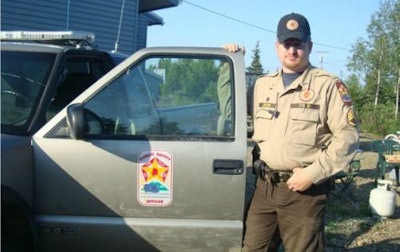 To help keep the peace in Alaska's tiny indigenous villages, the state deputizes rural peace officers known as village public safety officers, or VPSOs. This role can often require a varied skill set—the state trains VPSOs to perform law enforcement, fire suppression, and first-aid CPR duties. Compensation rivals that for less-experienced Alaska State Troopers and can far exceed pay offered by many of the nation's smaller police agencies.
This little-known law enforcement position came into the spotlight in March, when VPSO Thomas Madole was killed while responding to a domestic call. Madole was found dead outside a residence in the western Alaska community of Manokotak. Leroy Dick, 42, was arrested and charged with first-degree murder, then confessed to the crime in front of a local judge.
Madole's sacrifice will be honored on the National Law Enforcement Officers Memorial in Washington, D.C., along with many other line-of-duty deaths. Only two VPSOs have been fatally shot in the history of the program—Ronald Zimin was killed on Oct. 22, 1986.
The village public safety officers program was set up in the late 1970s to provide basic law enforcement services to rural villages. VPSOs also take the burden off Alaska's 300 troopers and 100 wildlife officers, according to Capt. Steve Arlow, who oversees the program for the state troopers. The state has authorized 116 positions now staffed by 91 VPSOs under the Department of Public Safety.
"We can't be everywhere," Arlow says. "The state and the regions decided to put a public safety officer in these communities, someone that was our eyes and ears on the ground." State troopers are typically stationed in the state's larger "hub" villages, while VSPOs patrol the 247 remote native villages.
After they're hired, VPSOs are provided 12 weeks of training at the Alaska State Trooper Academy in Sitka. They receive condensed training compared to cadet troopers that does not include training in emergency vehicle operations and firearms. Additionally, they're given two weeks of fire training.
They're unarmed, but issued a TASER X2, ballistic vest, baton, and O.C. spray. VPSOs enforce curfews, encourage boating safety, fight fires, and make arrests. Domestic violence often fueled by alcohol or drugs often brings a VPSO to a village residence. They are considered the community's first responders for volatile situations.
When a felony call comes in, the VPSO responds to protect and secure the scene until a trooper can reach the village by plane. VPSOs often know or are related to the subjects, and have the option of making contact by phone or a knock on the door. They're not expected to handle high-risk or complex investigative situations, but frequently conduct misdemeanor and minor felony investigations with assistance from state troopers.
"There are some VPSOs who feel comfortable enough to engage because they know the person," Arlow says. "It may be their aunt or uncle. It's an individual choice. In more dangerous situations they will monitor the best they can."
Employed by local, indigenous corporations, VPSOs start at $25 an hour and with overtime can make $60,000 to $80,000 a year. The local community selects VPSOs and coordinates their daily activities. VPSOs have a 401(k) retirement plan and can receive free medical care if they are Alaskan natives. More than 90% are Native Americans. Surprisingly, the positions have been difficult to staff.
"The applicant pool is limited," Arlow says. "You have to have a clean background. We're having trouble finding folks without a criminal history."
View a recruitment video here.