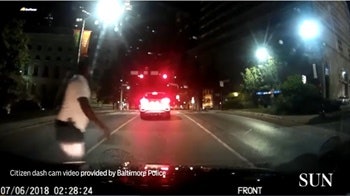 Earlier this week, it was reported that an off-duty firefighter approached a Baltimore police officer to report seeing a man with a gun in the nearby area. He and two friends had seen the man two times in the span of a couple of minutes, capturing the scene on dash-cam video.
The firefighter called 911 twice, but no police responded. Reportedly fearing that the gunman might open fire on them, they left the area. The came upon the officer and approached her.
"Hey, can you help me out?" the firefighter said. "There's a guy — just dumped a gun. I just called it in twice. Took them forever to respond…."
He then gave the officer the location of the subject.
The officer replied, "Sir. Right now, I'm going back to the station. You called it in? This isn't my district."
The firefighter can be heard responding, "All right, thanks. Just lettin' you know… 'protect and serve'."
Not a good look.
It's one thing to turn a blind eye on a broken tail light — it's an entirely different matter to ignore a citizen's report of a man with a gun in the vicinity.
Of course, reporting that "there's a man with a gun in Baltimore" is like reporting that water is wet.
But I digress...
De-Policing
This incident came just days after USA Today presented an article that said, in part:
"Millions of police records show officers in Baltimore respond to calls as quickly as ever. But they now begin far fewer encounters themselves. From 2014 to 2017, dispatch records show the number of suspected narcotics offenses police reported themselves dropped 30 percent; the number of people they reported seeing with outstanding warrants dropped by half. The number of field interviews — instances in which the police approach someone for questioning — dropped 70 percent."
Let's get something perfectly clear:
De-policing is not something police are doing to the citizens.
De-policing is something citizens have done to the police.
De-policing is an outcome — the direct result of protesters, politicians, and the press applying enormous pressure on police to do less policing — in which the obvious end state is an increase in violent crime.
Following Ferguson and all the way up to today, there is such an outcry among certain groups — from the ACLU to Black Lives Matter to Antifa and others — for a reduction in police activity.
They want fewer Terry stops. They want fewer traffic stops. They want fewer gang injunctions. They want fewer field interviews. They want police to respond to calls for service, but not to actively seek out crime or the criminals responsible.
They want cops to be firefighters: "Come when we call you, but otherwise, please stay away."
Officers then become little more than report takers, because on plenty of occasions, officers responding to a 911 call arrive to find the perpetrator long gone — all that can be done is to deal with what the perp left in their wake.
After all, "When seconds count, the cops are just minutes away."
The trouble is, traffic stops often result in the removal of dangerous criminals from the street. So do Terry stops. Gang injunctions have historically been one of the best tools to quell gang violence. Field interviews are gold mines for learning what's happening in the neighborhood.
With such anti-police sentiment dominating the national dialog, police are only encouraged to do the minimum. Doing more merely increases the risk of ending up in court, in jail, or in the grave.
The obvious outcome when police pull back is that criminals step forward — nature hates a vacuum.
As we've seen from the increase in violence on the streets of Baltimore (and elsewhere) in the wake of a drawdown by police, it is the innocent civilians who are suffering.
The murder rate in Baltimore reached an all-time high last year — 342 people were killed — but is anybody really surprised?
As Attorney General Jeff Sessions once said, "If you want crime to go up, let the ACLU run the police department."
In Humor, Truth
About a year after Ferguson — when we were really beginning to see de-policing becoming "a thing" — I observed that there was really very little incentive to proactively engage in self-initiated policing. I opined that for some officers, the best — and safest — way to have a long career in law enforcement is to become a "slug."
"You can't get fired for doing nothing," I said.
Of course, I was being snarky and sarcastic, but let's hope for the sake of that officer being investigated in Baltimore that I was right.