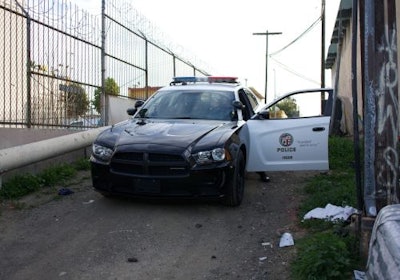 The Los Angeles Police Department's Rampart Division may be the agency's smallest geographic area, but its steady flow of house burglaries, auto thefts, and meth-fueled crime offer the Special Problems Unit plenty of opportunity for targeted enforcement.
Freed from the encumbrance of priority radio calls, the nine LAPD officers who make up the SPU, as it is known, work as a tactical team that connects the dots between gang affiliates, document-fraud rings, and burglary crews.
"The patrol guys are chasing the radio," says Sgt. Joel Miller, the unit's supervisor. "We have the time to check these people out."
With this elite enforcement unit, Sgt. Miller insists on constitutional policing. Earlier in his career, Sgt. Miller walked the same hallways as Rampart CRASH officers, whose misconduct led to sweeping changes in the department. Much has changed since the late 1990s.
The SPU works out of the new Rampart Station, which opened in September of 2008. In 2010, Rampart commanders picked Sgt. Miller, a U.S. Marine who joined the LAPD as a reserve, to lead an illegal vending unit to eliminate food sellers hawking tacos, hot dogs, and other snacks without health-code oversight. Miller was initially given two officers.
The unit quickly expanded its scope in a division with the dubious honor of the highest unemployment rate (over 60% of residents) of any of LAPD's 21 geographical areas. Unit deployment runs on a 28-day cycle, and members work six of 12 weekend days. SPU officers work "watch four," jokes Miller, and aren't confined to the three patrol shifts in Rampart.
"What time we start, what time we stop is predicated on the crime stats," Miller said. "I have to keep these guys happy, but they also understand we're mission-focused."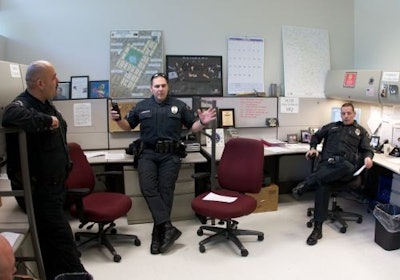 Rampart's geography covers Echo Park, Pico-Union and Westlake, including historic neighborhoods, strip malls, and community centers such as Los Angeles Community College. The unit often begins its shift with a meal at Palermo Ristorante Italiano in Los Feliz. Officers review door-knock warrants, top suspects, and updated intelligence.
Members of the unit enjoy the camaraderie that comes with the job, as well as some of the perks, which include field-testing new equipment such as a V-8 Dodge Charger Pursuit, Blac-Rac Tactical Weapons Mount, and Blue Check fingerprint reader.
The officers wear tactical uniforms and refer to themselves as the "men in black," a reference reinforced by a "Men in Black 3" movie poster hanging in the roll-call room.
SPU officers relentlessly fill out field interview cards to build a record of every vehicle stop or contact. Several of the officers use the Field Contact mobile app to store suspect data including photos, tattoos, and gang affiliation.
Several gangs now operate in Rampart, including 18th Street, MS-13, Big Top Locos, Burlington, and Rockwood. SPU officers gain a greater working knowledge of their members, who swap information to get out of hot water.
"Working a specialized unit allows us to stay in contact with them," Officer Sean Hillman says. "They'll generally give you good intel because they don't want the heat brought on them."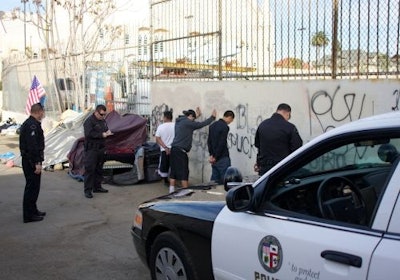 The unit was moved back to patrol duties for much of 2012, but when crime trends ticked upward Rampart commanders moved them back to the special assignment. The unit's success can be seen in falling violent crime in Rampart. You can now count the number of Rampart murders on one hand in a division that once averaged more than 100 a year.
"We hunt what you fear," Sgt. Miller says.
Editor's note: Want more features on special assignments in law enforcement? Read other entries in our ongoing seriers here.