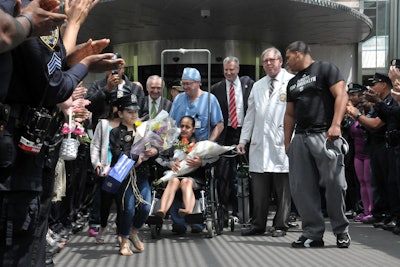 An NYPD officer critically injured in a Brooklyn arson last month was released from the hospital Monday amid cheers and applause from her fellow officers and a tribute by a bagpipe band.
Newsday reports Officer Rosa Rodriguez, 36, a mother of four, was wheeled out of NewYork-Presbyterian Hospital/Weill Cornell Medical Center to a black Chevrolet Impala and left about 12:38 p.m.
Rodriguez had been hospitalized since April 6 when she and Officer Dennis Guerra responded to a fire on the 13th floor of 2007 Surf Ave. in the Coney Island section of Brooklyn. They took an elevator to the floor but were immediately overcome by smoke and toxic fumes from the fire, allegedly set by 16-year-old Marcell Dockery of Brooklyn.
Guerra, 38, died April 9 after sustaining lung damage. Dockery was then charged with murder and arson, felonies to which he has pleaded not guilty. Guerra's family was there to see Rodriguez leave the hospital.