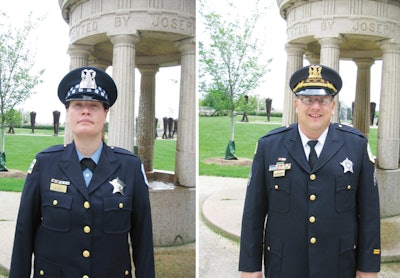 On March 19, 2012, a fleeing suspect shot Officer Del Pearson in the chest during a foot pursuit. Fellow Chicago PD colleagues Officer Kirsten Lund and Sgt. Christopher Kapa arrived on scene and immediately transported the profusely bleeding Pearson in a squad car to a nearby emergency room, saving his life. For their actions, the National Law Enforcement Officers Memorial Fund has named Officer Lund and Sgt. Kapa the August 2012 Officers of the Month.
Pearson and his partner, Officer Brian Stoyak, had stopped four people for violating curfew around 10:45 that night. One of the suspects fled on foot into a nearby alley, and Pearson took chase. A gunfight ensued, and both partners announced on the radio that shots had been fired. Then came the transmission that no officer ever wants to hear: "I'm hit!"
The offender had shot Officer Pearson in the chest. One bullet hit him above the vest and severed a major artery beneath the collarbone that carries blood from the heart to the arm.
Lund and Kapa had already been on the way when the shots fired call went out, so they arrived in their cars within seconds and ran to his side. They didn't know the technical aspects of Pearson's injury, but they knew it was bad. He sat on the curb, eyes closed, face pale, blood streaming from his chest. He was bleeding out.
"We ain't waiting for no ambulance; let's go," Kapa told Lund. Other assisting officers helped them get Pearson into the back of Kapa's car. "I had to make that decision or he would've died right there on the scene," Kapa says matter-of-factly.
Lund was happy to help. "All I could think of was that no one should have to go on that ride alone," she remembers. She kneeled over Pearson and applied pressure to his wound while carrying on a conversation to keep him conscious.
As he was driving, Kapa was radioing information to dispatch to make sure the nearest medical facility, Trinity Hospital, would be prepared for Pearson when they got to the emergency room. It wasn't a trauma center, but doctors and nurses would be there.
Thanks to Kapa's instructions, a security guard was waiting outside with a gurney when they arrived, and a staff of doctors and nurses were set up in the emergency room to stabilize Pearson and replace some of the blood he had lost.
Once stabilized, Pearson was transported to the nearest trauma center, which was about 10 miles away at Christ Hospital in Oak Lawn. Kapa accompanied Pearson in the ambulance and monitored radio traffic. Several police departments coordinated to make sure the entire stretch of 95th Street had been blocked off and cleared of any vehicles. "You go through at least three different suburbs to get to the hospital, and everyone worked together," Lund says.
After more than seven hours of surgery at Christ Hospital, Pearson's artery was repaired. He is now in physical therapy to regain full use of his left hand, which suffered severe nerve damage.
Kapa, Lund, and Pearson had been working together on the same tactical team, so they were already close. But now they all have a special bond, and a different perspective.
This incident has changed the way Kapa approaches his shifts. "It makes you appreciate the time you have to spend with officers," he says. "If you stop for a cup of coffee with someone, take time to listen to what they have to say, because you might not get a chance to talk to them again."
Kapa says the only training he expressly used that night was his defensive driving instruction from the academy. But his training and experience gave him the confidence to make a split-second decision when the time came. "Go with your gut instinct and I think you'll be OK," he advises. "You're trying to do what you think is best. Do your job and use your training."
Lund agrees that no specific training came into play for her on the night Pearson was shot. "There's nothing to prepare you for something like this," she says. "My advice is to watch each other's backs and keep each other safe."
Both Lund and Kapa are grateful to the many people who worked together to get Pearson the medical attention he needed and to find and arrest the suspect. "Del's OK and he'll have a happy and full life, whether his nerves cooperate or not. And the offender was apprehended," says Lund. "Everybody did their part."
Related:
Wounded Chicago Tactical Officer Returns Home