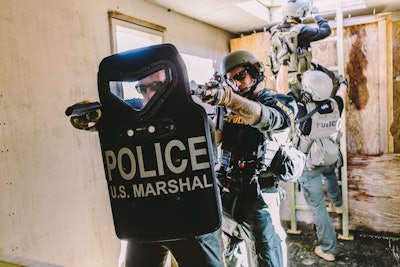 With the increased threats police officers face, whether during civil unrest or simply a routine call, a modern ballistic shield can help keep them safer. Shields come in a variety of makes and models, so choices abound when agencies seek out which best suits their needs.
Ballistic shields have become more of a hot topic following the school shooting in Uvalde, TX, and according to a report by the Texas House of Representatives Investigative Committee on the Robb Elementary Shooting, four shields arrived inside the school building but only one was rifle rated. That committee's report was released in July 2022, slightly less than two months after the mass shooting.
In August 2022, Texas Gov. Gregg Abbott announced a grant, part of which funds ballistic shield purchases for police departments. The other component of the grant program provides travel reimbursement for agencies sending officers to Advanced Law Enforcement Rapid Response Training (ALERRT).
On the shield side of the grant, the state made $50 million in funding available for Texas law enforcement agencies to use to purchase bullet-resistant shields. Per the grant, funds could only be used for obtaining shields compliant with the National Institute of Justice (NIJ) Level III, III+, or IV standards.
However, all officers who received, or will receive, ballistic shields through this grant program are mandated to have ALERRT training. At the time the grant was announced, the governor specified that all officers provided with a grant-funded ballistic shield must have either attended 16 hours of ALERRT training within the past 24 months or commit to attend within the next 24 months.
Dale Taylor, CEO of Blueridge Armor, has a finger on the pulse of what agencies need. He believes right now there are more handgun-rated ballistic shields in the hands of police than rifle-rated shields but expects that may change moving forward.
For now, Taylor estimates about 60% of the shields out there offer protection against handgun rounds while only about 40% are rifle rated. True cost is a factor, with the rifle-rated shields costing more, but weight also comes into play.
However, rifle-rated shields are getting lighter and with modications are starting to approach the weight of handgun shields weighing just 16 or 17 pounds.
"The downside to a rifle shield is it is going to be heavier than a handgun shield, but with technology we now have rifle shields that are approaching 16 to 20, 23 pounds. Again, depending on size depending on the features that you have on if it," he says.
"If you pair that down some features and options, you drop that down to let's say maybe a 20"x 30", that shield weight goes to roughly 20 pounds. Go on down to an 18"x30" and you take the integrated lighting off of it, you may be getting down as low as 15 pounds," Taylor explains. "So, the range in the weight for the shields are starting to equalize a little bit with what used to be handgun shield weight."
But cost is still a significant difference with Taylor ballparking that a rifle shield will likely cost about $4,000 more than a handgun shield.
Only time will tell if eventually most patrol officers will have a shield at hand while on duty. Smaller shields like Blueridge Armor's Patrol Defense Shield (PDS) are compact enough for an officer to keep inside the passenger area of a car, ready to deploy when an officer exits the vehicle and knows he will face an immediate threat.
Blueridge Armor is planning to launch a special kit – a bag that contains a rifle rated shield, a rifle, extra magazines, and maybe even a handgun. It will not appear overtly tactical and the demand for such a bag is being driven by the needs of school resource officers, he says.
Making the choice on what shield or shields to buy can be challenging for any department, so Taylor has some things you will need to think about. He suggests when shopping for shields, you need to consider:
1.

Intended Purpose
Is the shield intended to be an individual rapid deployment shield stowed in a patrol car or is it intended to be used as a SWAT team shield stored in a Bearcat?
2.

Threat Level
There are two typical threat or protection levels for shields, Level IIIA handgun and Level III rifle. That literally is a loaded question. Handgun shields are lighter than rifle shields and are typically more maneuverable. Rifle shields protect against a wider range of threats but are less maneuverable and heavier.
3.

Size
Shields range anywhere from 11"x15" to 24"x48" for hand deployable shields. The smaller shields are more stowable and deployable but provide less coverage area and the larger the shield the more space it takes up, but offers higher coverage. Typically, the median line shields, 24"x36" and up, are used for entry teams leaving the smaller versions to be used for individual protection.
4. Viewport
A viewport is an important decision and is dependent on shield size. Most shield offerings starting at 18"x30" or larger have the option of a viewport. The downside is viewports add considerable weight, as much as one-third the total weight of the shield, so most manufacturers have a viewport delete option.
5.

Lighting
There are many lighting options from a small flashlight mounted on a removable bracket to a fully integrated handle and light system.