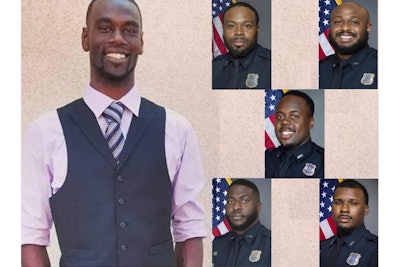 It's now been almost precisely one week since the video recordings of the "arrest" of Tyre Nichols in Memphis (TN) was released to the public. That "arrest" resulted in the death of a 29-year-old man who by all accounts—at least at the time of this writing—had no previous criminal record of any kind. The videos reveal actions appropriately described as horrible, horrendous, dreadful, despicable, and appalling.
According to Fox News, the five officers involved in the incident—Tadarrius Bean, Demetrius Haley, Emmitt Martin III, Desmond Mills Jr., and Justin Smith—were subsequently fired for violating department policies. Soon thereafter, they were charged with aggravated assault, aggravated kidnapping, official misconduct, official oppression, and second-degree murder.
According to reports, all five officers now facing criminal charges were hired between 2017 and 2020. It was during this time period that the department had lowered certain hiring standards in order to address the staffing crisis which—then and now, there and elsewhere—confronted the profession. For example, according to WMC-TV News, in 2018 the agency dropped its college requirement for new recruits, asking that applicants only have "five years of full-time responsible, verifiable work experience and a high school diploma."
At the time of the incident, all five had been serving as part of the "SCORPION Unit"—an allegedly "elite" street crimes outfit formed in 2021 by then-incoming Chief of Police Cerelyn "CJ" Davis.
The unit's name is a clumsily crafted "backronym" for Street Crimes Operation to Restore Peace In Our Neighborhoods. Judging by the evidence offered in the recently released videos—in conjunction with press reports that members consisted of younger, less experienced officers who routinely drove around in unmarked cars "bumping to rap music"—the unit itself was also clumsily crafted.
An Absence of Training
Bill Bratton—who in the course of his storied career stood at the helm of the Los Angeles Police Department and the New York City Police Department—said the SCORPION Unit Memphis had been troublesome because it "lacked necessary training."
Viewing—and contemplating—the video recording of the deadly incident in Memphis is somewhat reminiscent of the scene in Francis Ford Coppola's epic film Apocalypse Now depicting Captain Benjamin Willard and Colonel Walter Kurtz talking about the reason for their meeting in the jungle.
Kurtz asks Willard why he had been sent to him and Willard explains, "They told me... that you had gone totally insane... and that your methods were... unsound."
Kurtz replies, almost rhetorically, "Are my methods unsound?"
Slightly hesitant, Willard admits, "I don't see... any method... at all."
Indeed, no method at all.
From the outset, the entire event appears to involve no professional procedure or purposeful performance. The initial approach to the vehicle was rushed and uncoordinated. The extraction of Nichols from the vehicle was unnecessarily abrupt and violent. There were no coherent verbal commands to which Nichols could have complied once he was out of the car. There was not a single element of emotional de-escalation. There was no apparent adherence to tried-and-true physical control techniques to place Nichols into a custodial position. The application of the less-lethal tools (OC and TASER) was inconsistent with trained tactics.
It was a mess. It was an abject failure from top to bottom, beginning to end. It was almost like watching people who had never had any training whatsoever. No, it was worse than that.
An Absence of Accountability
Sportswriter turned political/social commentator Jason Whitlock said on Tucker Carlson Tonight that "this is a story about young Black men and their inability to treat each other in a humane way."
He added that in his view the incident "looked like gang violence" and concluded that it "looked like what young Black men do when they're supervised by a single Black woman."
Unsurprisingly, Whitlock's comments drew immediate ire from a whole host of people, from well-known celebrities to anonymous denizens of the Twittersphere. However, all evidence currently available appears to indicate that there was indeed an atrocious lack of oversight on these five officers (at minimum) and on this "specialized unit" (at large).
It's abundantly clear that no person in a supervisory position was on the scene to put a stop to the mayhem. It's patently obvious also that the officers acted without any fear of supervisory repercussion after the fact—they all knew they were wearing body cameras and were almost certainly aware of the fact that there were surveillance cameras in the area and proceeded with apparent impunity.
Well, while accountability in this case is way too late in coming, it is coming with a vengeance. The inevitable criminal proceedings against the five officers—and possibly others—will result in substantial jail time. The inexorable civil litigation against the city will be costly. The inescapable consent decree for the agency will be severe and long-lasting.
And every last bit of all of that will be insufficient.
An Absence of Answers
Ultimately—and understandably—there are more questions at this point than there are answers. Primary among those inquiries:
What training (beyond basic academy) did these five officers receive?
When / how frequently was this training conducted?
Who presented the training and what are their training credentials / qualifications?
How was the training evaluated, recorded, and reported to agency administration?
Why were these five individuals deemed worthy of inclusion in a 'specialized unit' of any kind?
It would be inappropriate—and speculative, at best—to offer answers to those questions in this space at this time. However, it's fair to say that whatever training these individuals got was inadequate, inappropriate, or simply ignored.
Finally and most importantly, this awful event is unquestionably absent any justification—regardless of whatever answers emerge in the future.