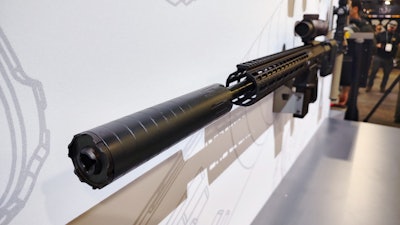 Last week our POLICE Magazine editorial team walked the aisles of SHOT Show 2023 and daily provided some insight into the products we found interesting. Although we have already covered Industry Day at the Range, day one, day two, and day three of SHOT Show; we still had a few more items we wanted to share with you today.
Aero Precision
New Lahar-30 Suppressor
Aero Precision's new Lahar-30 suppressor is full-auto and magnum rated with no barrel length restrictions. It features a fully laser welded, hybrid construction made up of 17-4 stainless steel with an Inconel blast baffle. A wire EDM bore ensures perfect concentricity and consistency. Industry-standard 1-3/8x24 TPI threads allow for the use of direct thread adapters, the Aero Precision Mantle Quick Detach (QD) system, and other common QD adapters utilizing this thread pitch. There are three variations —Lahar-30K, Lahar-30, and Lahar-30L.
Alien Gear
Light-Bearing Holsters
The newest product from Alien Gear is the Photon light-bearing holster. Features include high sights, ambidextrous design, optic cut, and optional sidecar. Can be used for IWB and OWB carry.
Beretta
New Tactical Shotgun
Beretta's new A300 Ultima Patrol semi-auto shotgun has ample accessory mount options to allow the user to adapt it for use in all situations. Featuring the mechanisms of the A300 platform, this new tactical shotgun has enlarged controls, an enhanced loading port, a thinner forend design with multiple M-LOK and QD sling mounting points, and a 7+1 shot extended magazine tube secured by a custom barrel clamp with integral M-LOK capability. Features include a modular ghost ring rear sight, 7-slot 1913 Picatinny rail, and interchangeable front sight post. Retails for $1,099 and comes in an assortment of color options with limited edition color variants.
Blueridge Armor
Vengeance X7 Ballistic Shield
Blueridge Armor displayed its new Vengeance X7, the first hard armor ballistic shield independently tested to various RF1 performance requirements set forth in the recently released ASTM ballistic shield test protocol, the company says. Building on the origins of the popular Vengeance Series handgun shields, deployed by many agencies across the country, BlueRidge Armor sought input from law enforcement personnel for the development of this next generation shield that meets real world requirements for routine deployment.
Bushmaster Firearms
Bravo Zulu SBR
The Bravo Zulu SBR, by Bushmaster Firearms, brings new life to the company's lineup. With the addition of a free float rail, the Bushmaster DM2S two-stage trigger, Magpul furniture, and the Snake Charmer muzzle brake to reduce felt recoil, the Bravo Zulu is suited for a multitude of applications and features an 11.5-inch 4150 CMV barrel.
FN
FN 15 11.5" SRP G2
Continuing to provide for law enforcement, FN displayed its FN 15 11.5" SRP G2. The rifle is streamlined and provides a multitude of mil-spec configurations. The family of carbines, specifically developed with law enforcement officers' needs in mind, offer lightweight designs with extended hand guards maximizing top rail space with multiple M-LOK slots and QD points for maximum configurability. The FN SRP G2 is chambered in 5.56.
ForceFlex
Tactical Eyewear
ForceFlex is named for it extremely durable frame construction that is pretty much unbreakable, except for the hinges on the arms. You can bend the nose piece of the frame far beyond what would be the breaking point for ordinary eyewear. The lenses are permanently infused with protection from UVA, UVB, and UVC light. Ballistic protection exceeds MIL-PRF-32432. They are also scratch resistant with a diamond shield coating.
Haix
Black Eagle Athletic 2.1 T
Haix released its new Black Eagle Athletic 2.1 T, which comes in mid, high, and high zip styles. The boot features a combination of abrasion resistant textile and leather in order to offer a comfortable, breathable and long-lasting option that can be polished for uniform wear. The built-in cushioning in the sole acts as a shock absorption, effectively cushioning each step.
Lowa
Tactical Boots
The new Zephyr MK2 family of tactical boots from Lowa is an update of the company's popular Zephyr TF line. They now feature the Lowa X-Trac outsole that is slip-, heat-, and fuel oil-resistant. New features include a fast rope arch and a new lacing system designed to make the boots fit more snugly. Available in a variety of mission-specific versions and in mid, high, and low heights, the boots are available in tan and black.
Meprolight
Tru-Vision
The Mepro Tru-Vision electro-optical mil-spec red dot, by Meprolight, sight is shockproof, waterproof, and durable. Its short-length, compact, and lightweight design addresses the need for co-mounting multiple tactical devices on a picatinny rail. It provides thousands of operating hours from a single CR123 standard battery and also features an automatic brightness control system that enables clear visibility of the red dot in any lighting condition.
OTTO
Covert Surveillance Kit
OTTO's Covert is a low-visibility earphone kit that when integrated with the new OTTO Surveillance PTT (push to talk) provides a solution for teams assessing and responding to threats. The new earphone kit offers excellent sound clarity and discreet audio reception even in loud environments. The new Surveillance PTT has an easy to locate 20mm PTT button that activates silently. Links directly to Motorola APX and Kenwood radios.
Patriot3
XPS-G2 shield
Always hard to miss because of its size, Patriot3 was on hand with its XPS-G2. The X-treme Protection Series (XPS) shield is high threat protection designed for maximum versatility, superb mobility, and ease of use. The XPS's unique design incorporates the first ever Folding Ballistic Wings. The optional ballistic wings are added to provide a wide area of coverage beyond that of the base unit and can be mechanically articulated. This mechanical articulation enables the XPS to pass through most doorways and then expand to resume its larger area of protection.
Reebok
Hyperium Tactical Boots
For the new Hyperium Tactical Boots, Reebok's designers took their cues from the company's trail footwear. The slip-resistant outsole helps keep footing secure. The side-zipper boots offer FuelFoam cushioning and MemoryTech cushioning enhance foot comfort. Available in 6-inch and 8-inch versions.
Sionyx
Color Night Vision
The OPSIN DNVM1 helmet-mounted monocular from Sionyx uses the company's XQE-1350 Black Silicon sensor for color night vision. Users can record images and video in the system. Features include an easy to see and read digital display. The 1920x1080 HD micro-OLED display and broad field of view make it easier for users to survey surroundings. Users can set the frame rate to 30-, 60-, or 90 frames per second.
Spartan Armor Systems
Hercules Lite Rifle Plate
Spartan Armor's Hercules Lite is a level III+ plate composed of ceramic and ultra high molecular weight polyethylene. It's engineered to stop M855 5.56mm NATO rounds and M80 .308 caliber ball ammunition, weighs just four pounds and is one-inch thick. The protection area is 9.5x12.5 inches.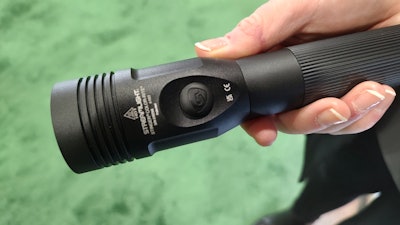 Streamlight
Stinger Color-Rite
Streamlight introduced the Stinger Color-Rite, a new member of the Stinger family that uses Streamlight's Color-Rite technology to provide the natural light you need to differentiate between colors and prevent glare and eye fatigue. Unlike other Stingers, it produces a warm, white light. It features 500 lumens, a 265-meter beam, 17,500 candela, and a run time of one-and-a-half hours on high. Medium output provides 275 lumens and on low power at 140 lumens the Stinger Color-Rite will operate for five hours.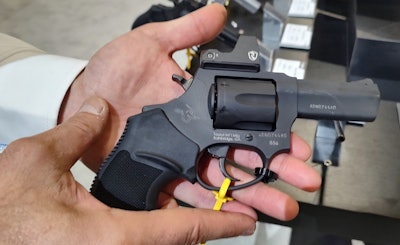 Taurus
856 T.O.R.O.
Taurus has taken its 856 and made it optic ready with the release of the Taurus Defender 856 T.O.R.O. The six-shot revolver chambered in 38 Special and capable of handling +P loads features a matte black finish and a 3-inch barrel. It is ready to accept compact red dot sights that fit the Holosun K-footprint. The 856 T.O.R.O uses a stainless-steel cylinder for maximum durability.
Tru-Spec
River's Edge Duffel Bags
Officers who work in wet environments may want to check out the new River's Edge Xpedition Duffel Bags from Tru-Spec. The new duffels come in two sizes 60L (28.4x13.8x11 inches) and 90L (36.6x13.8x11 inches). Both models are made of waterproof and heavy-duty PVC tarpaulin with welded seamless construction. The bags float.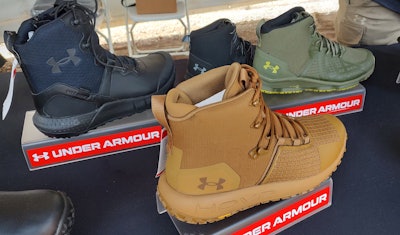 Under Armour
M.A.D.E Apparel/Boots
Under Armour showcased its new M.A.D.E. (military, agency, defense, emergency) line that includes apparel and also boots like the HOVR Infil G2 Mid. The new tactical boot is flexible, lightweight, ready for all-day wear, and provides durable protection from rain and rough terrain. The traction lug technology keeps you from slipping, while Under Armour's HOVR cushioning keeps feet feeling fresh. The M.A.D.E. line includes several pant and shirt options geared to first responders and police.