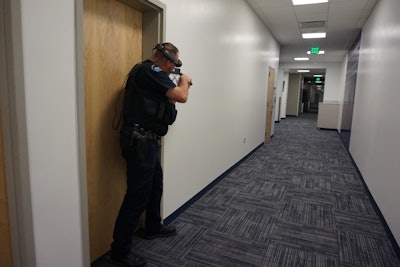 On the campus of the Colorado School of Mines—nestled alongside the foothills of the Rocky Mountains just west of Denver—a call comes in about a a person experiencing a mental health crisis at the Harold and Patricia Korell Athletic Center.
The facility is the home of the Orediggers sports teams—including basketball, football, soccer, wrestling, and others—as part of NCAA Division II and the Rocky Mountain Athletic Conference (RMAC). The building contains weight rooms as well as
Several officers with the campus police department respond, quickly finding the individual and utilizing their training in de-escalation and communication to build a rapport with the individual and connect them with a mental health professional.
Fortunately for everyone involved, the entire event was a very realistic simulation conducted with the agency's newest training tool—augmented reality technology.
Welcome to Augmented Reality
Law enforcement training has utilized various forms of simulation—especially in use-of-force decision making and in driver training—for decades, but in recent years many agencies have begun to add to the mix Virtual Reality (VR) systems and devices.
Some believe that the next step in that evolution is the use of Augmented Reality (AR) technology. Alicia Caputo—who serves as CEO for Avrio Analytics, a predictive data analytics company that provides Augmented Reality (AR) training for first responders—is one of those people.
Caputo says, "The difference between VR and AR is that in virtual reality, you have to have a clear space—it has to be designated for that type of training. Augmented Reality uses the space that you're in and it brings that into training."
Aviro has been working in the augmented reality space for about five years, initially providing solutions to the Department of Energy, and last year began to market a public safety AR platform under the name Watchword. Caputo says that the Watchword AR platform doesn't have some of the shortfalls for which virtual reality (VR) training tools have been criticized.
"Many [agencies] have been disappointed with VR," Caputo says. "The graphics are not as realistic. Many people get motion sickness. With Augmented Reality, you can see through it—it's like wearing sunglasses. It's like little computer screens slightly tinted and you can still see people, which is very important when it comes to recognizing your space."
Caputo adds that another key benefit is that Augmented Reality provides what she calls hyper-personalization.
"These devices collect a ton of biometric data," Caputo says. "They're looking at you. They're looking at what you're doing, and where you are in the training."
The software is enabled to gather and synthesize all that information and then uses machine learning algorithms (essentially, artificial intelligence) to provide specific training benefits such as performance feedback.
Caputo explains, "How well is the person doing the training? Are they behind where they should be? Are they struggling? We can also adjust the training as we want by making it more difficult or making it easier."
Mining for Better Training
Chief Dustin Olson of the Colorado School of Mines Police Department in Golden (CO) has a dozen sworn officers to patrol a campus of about 400 acres, not including the working Edgar Mine.
Olson says that given the small numbers of officers on his department, the relatively large geographical patrol area, and the fact that the campus is in near constant use, it's useful to have the flexibility the Watchword AR solution provides.
"When we're running through our scenarios—whether it be a hostile intruder scenario or domestic violence case you know, robbery, anything that you can think of—we can 'virtually' pull these scenarios into our own facilities and buildings so it's not ' some generic location," Olson says. "It's a huge plus to [have] the ability to use our facilities [without closing down to student activity]. Anybody who's spent time on campus knows that believe it or not, it's very hard to lock down space for that type of real time training."
One of the benefits Olson's officers appreciate is the apparent lack of disorientation and motion sickness some users complain about suffering in a VR system. Another is the realism of the training environment the AR system affords.
"To be able to bring the realism [of AR] to buildings where we will likely be faced with some sort of emergency or potential disaster is just so valuable," Olson says.
Olson says that they haven't yet set up any AR training scenarios inside the Edgar Experimental Mine—an underground laboratory for future engineers located west of the main campus near a small town called Idaho Springs—but he and his training cadre don't discount creating one there in the future.
"We could absolutely work scenarios up into the mine, which as you can imagine is an extremely unique location," Olson says.
Strategic and Operational Planning
Olson adds that in addition to the dynamic training in the AR environment, there's great potential for planners, leaders, and administrators to conduct simulation exercises and strategize disaster relief plans for future use in the event of a catastrophe for which conducting scenario-based in-person training might be physically or logistically impractical.
"A campus police chief—and this certainly could apply for any municipal or state police department or federal for that matter—could come up with any kind of disaster that you can imagine, and then you and your emergency operations center and management team could sit there and work a tabletop exercise virtually like this with this type of platform," Olson says.
An All-of-the-Above Approach
Colorado School of Mines Police Department still maintains a traditional training facility, and Olson says that the AR training is supplemental to the type of work his officers continue to do in their existing training setting.
Officers with the PD continue to conduct conventional training operations and participate in classroom-style sessions and seminars as required. Legal updates and other statewide requirements continue unabated and uninterrupted.
It's undeniable, however, that the new AR training has generated some additional excitement about training at Mines PD, and attracted the attention of police leaders in the greater Denver area. Just about everyone who has seen this new training technology at work has come away with some ideas for how it can integrate into existing programs and lead to entirely new training programs that now reside only in the imagination.