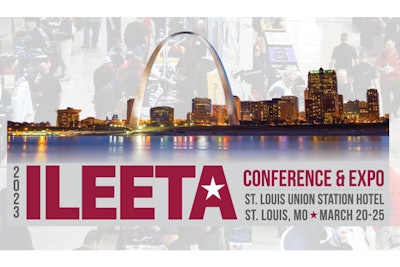 Two weeks ago in this space, we examined the early history of the International Law Enforcement Educators and Trainers Association Conference and Expo and began to explore some of the offerings the event now has to offer. Here, we'll share the opinions of a handful of ILEETA veterans who can help newcomers—and even some "old hands"—to maximize time and energy spent in St. Louis.
Before we get into that, though, let's establish a foundation upon which all of what follows will be built.
If you're having any manner of "career burnout" your batteries will be recharged and you'll return to your agency with the enthusiasm of a rookie.
Your assumptions about policing in general and police training in particular will be challenged, and you may become a slightly different/better person.
You'll meet one—probably more than one—individual who will become a friend to whom you can turn for nearly any professional or personal matter.
You'll hear something that makes you hurt emotionally—so much so that you shed a tear—and if you look around the room you'll see you're not alone.
You will be absolutely and completely exhausted when your stay is done—your head will hurt from the learning and your sides will hurt from the laughing.
Now, here's a little more to contemplate as you pack your bags and set your out-of-office email auto-response.
Making Connections
"If you come by yourself, don't keep to yourself," says Duane Wolfe, who recently retired from his second career as a law enforcement instructor at Minnesota Technical College after serving more than a quarter century as an officer in the Land of 10,000 Lakes. "Introduce yourself to people—ask to join them for lunch. More than likely, once people know you are new, they will ask you to join them."
Wolfe says that people who attend with colleagues from their own organization should also approach people you don't know, or know only by name and reputation.
"If you come with other people, make sure to make those new connections and don't just stay with your 'group'," Wolfe says. "Expand. Explore Grow. That's what ILEETA is about."
Antonio Zarzoza—a 20-year veteran of law enforcement and a renowned police and corrections trainer affectionately known among most ILEETA attendees simply as 'Instructor Z'—adds that some of the best lessons happen between sessions at places like the coffee concessions or the elevator lobby.
"If we keep an open mind and a willingness to learn, we'll soon discover those magic moments," Zarzoza explains. "I attribute my success as a trainer 100% to those lessons and connections made at ILEETA."
Brian Hill—owner and lead instructor with Mental Ammo—agrees.
"Connect with fellow members and build a lasting relationship," Hill explains. "All the instructors attending the conference are much more than fellow members—we are all an extended family. It's very common for traveling members to seek out those connections throughout the year and have a drink or dinner when they are in your neck of the woods."
"ILEETA really is an organization of peers," says Kevin Davis, a noted police trainer and author of the book Use of Force Investigations: A Manual for Law Enforcement. "Most of the trainers I've come to know are humble and ready to help out or lend a sympathetic ear. My ILEETA connections and friends are in weekly—if not daily—contact."
Absolute "Musts"
The single event that every veteran attendee universally agrees to be an absolute "must" at the conference is the Emerson Hour. The event is held on Monday evening and if you wish to actually sit down, you need to get there early—it's a SRO event, and in this instance that acronym doesn't stand for school resource officer.
Fashioned a little like TED Talks—speakers are not allowed to use slide presentations and are limited to nine minutes on stage.
Doing these presentations is no small feat. As Mark Twain famously said, "It usually takes me more than three weeks to prepare a good impromptu speech." Being asked to deliver an Emerson Hour talk is at once an honor and a horror—it's simultaneously inspiring and intimidating. Yours truly did it via video recording during COVID lockdown, and even that was terrifying.
Hill says, "The Emerson Hour is a must-see event. It's an hour of powerful speakers talking about a variety of topics. Often, those in the audience will get a lump in their throat and an occasional allergy problem that will make your eyes tear up. You can follow Kim Schlau's lead and bring a box of tissues for those moments. Make time to attend the Emerson Hour and I promise you will not be disappointed."
Davis says that in addition to Emerson Hour, attendees should avail themselves to unplanned learning opportunities outside of the formal classroom environment.
"The ILEETA conference is not like other conferences," Davis says. "It's more like a positive energy training 'retreat' that will give you material for training for the year afterwards if you open yourself up to it. Take copious notes. Don't hesitate to reach out to presenters to "flesh-out" questions/areas you need more clarification on. You'll come away with a list of books and articles to read, ideas to improve your presentations, and recharged batteries as to the mission of the police trainer."
Contemplating "musts" at ILEETA, Zarzoza recommends not an event but an approach to the event.
"I'd recommend others to not get too hung out on the instructor bios," Zarzoza says, "or read too much into the course description. Just go with that session that got your attention from the first glance, then plan ahead of time."
Zarzoza adds, "All presenters are 'big boys and girls' and nobody will get offended if you step out of their session if you decide that it's not for you. I've spoken to several participants who are too preoccupied with appearing as rude if they walk out of a session they soon discover is not for them. At the end, it's incumbent upon the instructor to keep their audience engaged to not lose them. The burden is not on the participant."
After Hours
Some have questioned whether or not a few hundred coppers would be met with warm hospitality in a city known—among law enforcement especially—for violent crime, and located just miles from one of the most infamous officer-involved shootings in American history in Ferguson. But the hotel staff is almost universally welcoming—almost unnervingly so—to a sudden influx of "cop haircuts" and dark black shoes and light brown tactical pants.
It's true that most folks don't venture far from the conference venue—a National Historic Landmark that at the time of its opening in 1894 had been one of the largest passenger train terminals in the world—but it's equally true that most folks simply don't have to do so. Eateries within the confines of the property are ample, and within a block one can have authentic local-style toasted ravioli at Lombardo's or a rack of slow-smoked dry-rub ribs at Maggie O'Brien's.
A somewhat incongruously situated aquarium and a giant Ferris Wheel are co-located to the hotel, the historic St. Louis arch is a mile east on Market Street, and the Blues hockey arena is a short walk away (home games are scheduled for the 19th, 21st, and 23rd).
Most attendees don't leave the hotel property, however, because the absolute best off-hours activities are had in the atrium of the building, where people linger for hours in the widely spaced pods of chairs and couches beneath the massive arched ceiling.
The comradery and fellowship in this magnificent space almost defies description.
Going Home
As has been previously stated, ILEETA must be experienced in person to be fully understood. As has been previously stated, if you're a law enforcement trainer—or aspire to become one—attending is practically a "must."
With the Opening Ceremonies exactly three weeks away, most everyone who plans to attend has already booked their flights and arranged hotel accommodations, but there's still time to register for the event.
We hope to see you there.