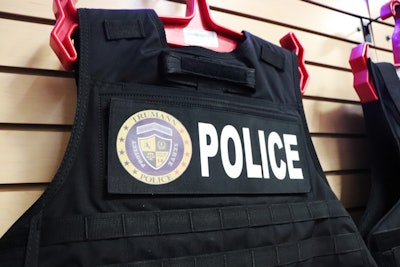 Hook and loop patches play a crucial role in communicating to the public that you are a law enforcement officer, but they also help police departments better identify each other during multi-agency operations.
"Misidentification or lack of identification can cause big issues," says David Curran, manager of agency sales for CopQuest. "So, whether we have multiple agencies working together or you're doing a covert undercover assignment, being able to identify yourself as law enforcement will help the general public see who you are, see why you're taking action, and not think that you're a criminal trying to do some negative actions. So that's one possible reason why people are looking towards customizing their patches."
Curran points out many agencies are now using external ballistic plate carriers. Because of that, some parts of the uniform may be covered so they need visible identification to show who they are, who they are affiliated with, the rank of officers, or any other key identifiers.
He says in some agencies, officers with supervisory rank of sergeant or above may wear a different style patch. Regular officers may have white lettering while sergeants or higher may have gold lettering instead to visually indicate that they are supervisors.
Nowadays, in some places what patch a department displays may be governed by law.
"Some state legislatures are starting to mandate certain information. So, for instance, in Maryland you have to have your name and your ID number visible. We've been getting quite a few requests from people in Maryland where they specify the size of patch, they want the color backing, the text color they want, and then it'll have their name," Curran says.
When choosing patches for a department or unit there is a balance between visibility and being subdued.
"A favorite combo of mine is going to be a black backing patch with gold text. The reason for that is it is so easy to read even at a good distance. You know who that is; what it says," explains Curran. "Whereas let's take that black backing example and throw on, let's say, a gray text. While it's still visible, it's a little more subdued and so it can be a little harder to read."
Another factor on visibility is whether the text is reflective, or not.
"With reflective, it's not going to be lighting up like a Christmas tree in broad daylight. It's only from focused beams of light directly onto the text," says Curran.
With increasing concerns for officer safety, especially around traffic, the reflective lettering on patches is becoming more common with agencies across the country.
"A lot of people are going towards that because at night, when light hits it, you're able to see the text and it makes it easier to identify things at night," Curran says. "It's got millions of micron size beads that are embedded into the vinyl, that's how it works. If you're going to be working primarily at nighttime, it increases your officer safety capabilities."
But he said there is one thing to be aware of when it comes to reflective lettering on patches.
"One downside of it is if you're trying to be very stealthy and you have a reflective patch on and let's say a suspect shines light out, they're going to see that reflection. But looking from the identification standpoint of it, reflective can be a really good option," Curran adds.
While large patches indicating police, sheriff, state trooper, or others are commonly worn on the back, hook and loop patches on the front side of a plate carrier or jacket can be advantageous as a way to display a badge, logo, or department name on the chest.
"This is starting to gain popularity because departments, if they're doing a carrier, may not want you wearing a metal badge," says Curran.
However, that patch badge or some other departmental identifier also has benefits when working with officers from other departments during a joint operation or response.
"So, when they have a multi-agency response, then you know, who's who, where they're from. If there's an issue, let's say an officer is injured, then you know what department to reach out to and tell them that their officer is injured," explains Curran.
Hook and loop patches are readily affixed to armor carriers, jackets, bags, etc., and come in both standard and custom sizes and in varying color and text options. Past just providing visual identification of personnel as law enforcement, patches can also be used to indicate an IFAK or other first aid supplies in pouches worn as part of an officer's kit. There are also patches available for ballistic helmets, typically in a standard name-tape size of 5" x 1" or 4" x 2".
Truly there is a good deal to consider when ordering custom patches for any police department, so Curran offers a reminder that you should always consider:
1.

Visibility/Stealth
Do you need a darker color patch/text or do you need reflective text?
2.

Compliance
Many places will have penal codes specifying requirements for minimum size of text on a patch.
3.

Images
Adding your badge or seal to a logo will help with identification. Keep in mind images are not reflective.
4.

Agency Name
Do you want your agency name on your patch? It helps to identigy who is with who when multiple agencies are involved. Plus, it may be part of that compliance factor for some areas.
5.

Cost-Effective Sizes
There are standard sizes of patches that fit most carriers such as 8" x 4", 8.5" x 3" and 11" x 4". Other sizes such as a 10" x 3" require additional production which may lead to higher costs. If you want to save money, consider going with the closest standard size.