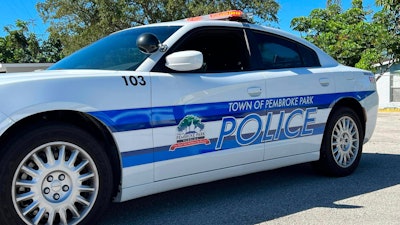 The City of Pembroke Park (FL) opted to shutter its police department more than four decades ago in lieu of having the Broward Sheriff's Office (BSO) provide contracted services. But the Pembroke Park Police Department has now returned and has been built from the ground up as a new agency.
But, just what does it take to start a new department from nothing?
Chief David Howard, of the Pembroke Police Department, shares his stories along with the struggles and successes and provides a few tips on how to start a department.
He began his law enforcement career as a reserve officer in 1989, and then served as a fulltime sworn officer from 1990 to 2017 before retiring from the West Palm Beach Police Department as a shift commander. After a brief stint in commercial aviation, his acceptance of the Pembroke Park chief's job marked his return to law enforcement.
The first step in starting a police department was for the city to bring in a consultant and Howard landed that role. Then, when the city chose to move forward with creating a police department, he applied to be chief and was hired in 2020. The department finally launched Oct. 1, 2022.
"It took almost two years to get this off the ground and it shouldn't have taken that much time, but we met a lot of resistance within the town and the county," he says.
After Howard was named chief, the plan to launch a department was put on hold several times by city officials. Some of the town's leaders, according to the chief, opposed the department not out of concern for the initial cost but rather for what the cost could grow to be later down the road.
Howard says a neighboring community is paying over $7 million for their contract with the sheriff's office and he estimates the Pembroke Park Police Department will operate on less than $2.5 million initially. But he knows growth is coming to the area and the agency.
"I would venture to say that our budget will be around $5 million in the next couple of years, but nothing near seven," he adds.
The final vote to start the department came in September 2022 when the commission was presented with the option of signing another two-year contract at $5 million per year. The vote was not unanimous, and at least one commission member was in favor of renewing the contract with the sheriff's office and stated there was not enough time to get the department in operation prior to Oct. 1. That date was key, since without a BSO contract for service there would be no law enforcement in Pembroke Park if a department could not be staffed in time.
It wasn't until September, just weeks before the department was to start, that the chief was finally given commission approval to hire officers.
Howard chose to hire experienced or retired officers. Then once the department launched, he could send recruits to the police academy and implement a field training program. He is also bringing on reserve officers, a concept he really believes is "a great program."
At first, policing was like a step back in time.
"We didn't have access to CAD until about three months after we opened. So, we were doing it the old-fashioned way on a piece of paper with tic tac toe," the chief explains.
Pembroke Park police now use a regional county dispatch where the sheriff provides the dispatchers, and the county provides the building and the infrastructure. However, the Pembroke Park Police Department still relies on the sheriff's office for certain calls.
"They work our homicides, and they work our traffic fatalities, and their response has been absolutely commendable," Howard says.
The small, and still fairly new, police department is approved for 22 sworn officers but Howard is trying to grow that number and earlier this week asked the commission for two additional positions to serve as school resource officers. He has also applied for a Department of Justice Office of Community Oriented Policing Services (COPS) grant to fund three more officers.
Howard says he was fortunate to be able to use American Rescue Plan Act of 2021 (ARPA) funds to help build the department. The department also received an accreditation grant from the state, an accreditation grant from DOJ, a ballistic vest grant, and additional grants to cover officer hours since the area is high in vehicle crashes.
Even with all the planning, there was one small hiccup when the department opened on day one.
That first morning, the chief overheard a conversation between his administrative assistant in an adjacent office and a caller. When Howard heard talk about towing cars, he realized one key thing had been totally forgotten in all the planning.
"I completely forgot the tow log, all this stuff that we had to do, and I forgot the tow log," he recalls with a chuckle. "I just think that's hilarious that I did all that and the only thing I forgot was the tow log."
That same woman, just one office away, has been by Howard's side since he was named chief. When there was not yet a department, he and Mountjoy Cornish-Brown plugged away at creating one. She is both his administrative assistant and is also now the department's accreditation manager.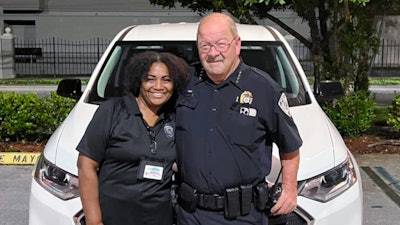 The chief is also overseeing the construction of a new police department building, getting the department accredited, making sure internal affairs and mandatory reporting are done properly, and various miscellaneous other tasks.
With the two-year marathon of work to get the department planned and open, why did Howard take on the challenge of trying to create a police department?
"How many people will get an opportunity to do this? I don't know of any. So that was it, it certainly wasn't for the money, and it certainly wasn't for all the love and adoration I got," he explains.
"I think anybody starting a police department needs to focus obviously on public safety first, and then customer service. And you have to have the right tools," Howard explains. "It's also expensive, the whole process is very expensive."
After going through the experience of building a department from the ground up, Howard shares his advice for anyone facing the challenge of starting a police department. His tips include:
1. How Much Is This Going to Cost?
This is the elephant in the room when starting a police department. How many sworn and non-sworn do you require? Will you go with a regional dispatch or maintain communications in-house? If you go with a regional system, will they handle your teletype requirements? Uniforms, cars, computers, radios, benefits, and other items must be considered and planned for, then add 20% to that figure just in case.
2. How Many Police and Support Staff Do We Need?
You must get this one right to provide an adequately staffed agency that cannot just meet but exceed community expectations. If you hope for a proper estimate, you will need several years of recent criminal data. Even after you do this, it will still be just an estimate. First, I couldn't obtain accurate data from the previous agency for many reasons. The other reason is that the service expectation of the public was so wrong from the last 41 years with the old agency that the people did not bother calling as they felt that no one would respond, or if they did respond, it would be several hours later. Once we started operating, our call volume increased by several hundred monthly from previously submitted reporting.
3. Does the Community or City Administration Even Want Its Own Department?
Our community support has been incredibly positive, at a level I've not seen in my 35 years in law enforcement. Sadly, I can't say the same thing for city staff. The one word I heard almost every day was "sustainability" from practically every director in our city. Of course, this is a valid concern, and police departments are typically not profit centers within any municipal setting. However, there are ways to minimize costs through various grants, federal partnerships, foundation creation, and other smaller revenue streams within the agency.
4. Create Policy and Procedures
This is more manageable of an ordeal than one might think. Plenty of commercial vendors will do your policies for you for a fee. You can go to the department next door and get theirs, and you should join your state or national organization so you have access to many agencies' directives. This isn't high school; plagiarism is encouraged. Of course, you need to ensure the correct name is on your policy, and, most importantly, the policy accurately reflects how you conduct your process. Don't implement a policy that no one will or can follow. Don't do more work for yourself.
5. Develop a Focus for Training
Training is huge. Start the development of lesson plans and have an idea of what training you want to push moving forward. Yes, you have the mandatories; however, there is so much more and being able to provide all of it is a nightmare. You can't do it all out of the gate. Many pieces of training are free, like de-escalation or autism training. However, most training is not free but just as mandatory or needed as first aid and CPR. Prepare the administration, as bringing in these folks will incur overtime unless you have the luxury of additional staffing that will allow you to pull from the shift to complete the training.
6. Identify Technology
A potential game-changer, fingerprint scanners, facial recognition software, records management software, computer-aided dispatch software, and a host of other databases can simplify processes, making them even more complicated. For example, our tow log was completely missed until the first day of operation when someone called in a repossession. Long story short, we created a paper log until we could have a database built and put on our website. The workforce required to do the paper log versus the ease of the online version made the cost of the database negligible.
7. Create a Wellness Culture
Officer wellness has been long overlooked. In my 35 years in law enforcement, no one ever cared about my physical or mental well-being. Today it's different and there are many models to choose from.
Likewise, there are many granting solutions to help pay for it. Take care of your people as they will take care of you.
8. Develop Law Enforcement Partnerships
This is a big one. No agency, regardless of size, can do everything. Have MOUs in place so that when you require assistance from your local partners you can receive the assistance you need. The same goes for your federal partners, as they can also bring both financial and equipment resources to bear. Establish those relationships as soon as you can.
9. Initial Hire
Let's face it. You don't have a functioning field training program if you're brand new. You have to hire officers that might have had some issues in the past. Of course, you must do your homework on everyone and pick the right ones who you think will fit in your organization. You might also get lucky and find a few officers who just want to join something new. I have both, and I have lost a few in the last six months from both groups. Once you're up and running and you have a field training program, you can select younger, less experienced officers.
10. Deployment
When the day comes to finally open, you have to put your faith in your organization and what you did to ensure you have selected the best officers you could find. You must be flexible enough to tweak your process as breakdowns in existing policies occur. Now you are no longer a new agency but an existing one that will constantly need to assess and reevaluate what you have created.