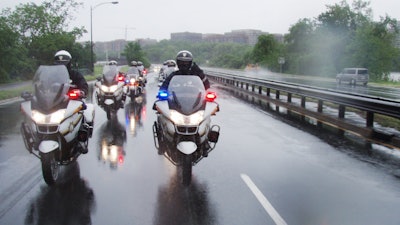 Whether exiting a patrol vehicle for a traffic stop over and over, or remaining outside for an extended time period, officers need protection from the weather. Staying dry is a necessity for protecting gear and keeping an officer comfortable, but there are several factors that come into play when purchasing rain gear.
Not only does Anna Yerton understand wet weather from living in the Pacific Northwest, but also because for nearly a decade she has been a part of the team at WaterShed providing a line of rain gear and apparel for law enforcement officers. She is WaterShed's customer service department manager.
Yerton sees keeping officers dry as a way to help them continue functioning effectively and stay on task, despite how much rain comes down.
"If in the back of their mind they are saying, 'I'm really cold,' or 'I really hate being out here in the rain,' then they're not going to be as focused on the job. And that puts their life at risk if they're not focused," she says.
In addition to keeping officers more comfortable in wet weather, good rain gear also helps protect the many tools of the trade they carry on a duty belt, load-bearing vest, or elsewhere on body.
"I think the biggest thing is just allowing them to really be able to know that they don't have to worry about their gear performing for them, for safety reasons," she adds. "Water is one of the hardest things on all kinds of gear, whether it be firearms, or cuffs, or what have you. I definitely think it's important to make sure that those are staying dry and clean and functioning for the officers."
Yerton points out rain gear should repel water and not allow any water to get through or be soaked into the garment. Rain gear that soaks up the water will increase the load weight an officer must carry. That means material used in producing quality rain gear matters. But not all rain gear is up to the demanding rigors of police work.
"There are some brands we hear about that are like sponges even though they're considered a waterproof garment," she says. "Motorcycle officers or patrol officers have to do a number of stops and by the time they're halfway through their shift, their coats can be completely drenched," she points out about lower-quality garments.
Yerton explains typically a department purchases rain gear for its officers, but in some cases, officers are given a stipend that is used to purchase their rain gear. However, they are still limited to wearing the rain gear options that have been approved by the department. Even though she says she cannot speak for other companies that sell rain gear, she says what is typically offered by WaterShed includes a duty-length jacket, a parka- length jacket with weapons access, jumpsuits, rain pants, and bib overalls.
"It really depends on how the individual department and officers are utilizing the gear. Motor officers, for example, generally lean more towards bib overalls because they have the piece that comes all the way up the back and they also generally go with a longer parka jacket," says Yerton.
The duty-belt length garments tend to be the more popular style of rain gear for the average patrol officer who makes traffic stops and responds to calls for service. Yerton says those officers often pair the jacket with a waist pant option because they don't want to have to fumble to access gear on their belts and prefer to have immediate access to their firearm.
"So, people knowing that they're going to be out in the elements all the time are the ones that are generally buying the long jackets where the ones that are getting in and out of their car, but not going to be standing there basically holding the flag sign, are generally getting the shorter ones."
Not all rain gear is the same, and departments or officers have ample options available for purchase. But, drawing from her knowledge of rain gear, Yerton has a few things you should keep in mind when looking for new rain gear.
She suggests you consider:
1. Waterproof, Windproof, and Breathability
Obviously, the most important thing when considering rain gear is that the material and construction of the garments are waterproof. There are standards that the public consumer may not be aware of that some manufactures are held to that ensure garments are waterproof. For instance, for WaterShed to have the privilege of manufacturing with Gore-Tex, all our styles have had to pass the rain room test. Basically, a garment is placed on a manikin with many water censors that is then drenched from multiple sprayers for a period specified by Gore. If water makes it through to the censor, the style is rejected and must be fixed before it's approved for manufacturing.
When choosing rain gear, it's equally important to consider the breathability of the material. If the material doesn't sufficiently allow perspiration to naturally evaporate, the base layers that you may have on will become moist. Having a garment that breathes can assist with regulating body temperature in different weather conditions and result in the wearer being more comfortable, allowing for better focus. Gore-Tex has a reputation for being one of the most breathable waterproof materials on the market.
While it's important for rain gear material to be waterproof and breathable, finding rain garments that are also windproof is hitting the trifecta. Blocking the wind from blowing through the material allows the body to regulate body temperature more efficiently. This can assist with keeping you focused longer during stressful and unpleasant weather.
Ultimately, being comfortable and warm will allow most officers to perform at their best, even in some of the worst weather conditions. Finding a garment that will keep you dry from both external and internal moister while blocking cold wind seems to me like the first place to start when considering rain gear.
2. Climate/Operation/Function
When looking for rain gear, it's important to consider what style of garment will function best for your climate and particular job environment. There are many different categories of gear that include different styles. This can also be drastically dictated by uniform requirements set by individual departments. Are you in a mountain range where a full one-piece cold weather uniform will provide the best protection? Are you looking for a duty belt length or parka style jacket? Would a lighter weight three-quarter zip be most comfortable for warmer wet days? Will you be needing waist pants to slip on over your uniform or bib overalls for two pieces that provide double coverage of the backside?
Also consider what additional equipment you'll need access to while in your rain gear. Do you wear an internal or external vest? Do you clip a bodycam to your gear? Do you carry a taser on your belt or uniform? What kind of mic do you use? I believe most people like having a specific place for each device they use whether it's at work, home, or in the car. Why shouldn't that also apply to duty gear?
3. Options, Specs, Sizing, and New Tools
Most departments I work with will apply at least shoulder patches, chest patches, and a name tag to each jacket. When purchasing raingear, it's a good idea to ensure that when these are applied there is some kind of sealant applied to the seams to ensure the garment remains waterproof. There are some features that are applied to duty gear that increase the versatility and function of the garment. These can range from hood in collar, to an extra seat cover, or additional pockets.
If trying to find a garment that can be made specific for your department or unit is important, then find a company that offers customizations. When you basically live in your raingear for months on end, it's important to feel like it fits comfortably. With such a wide range of body types, how is one to pick a single garment to fit them all? What if you have the option to choose custom sizing? Finding a rain gear manufacturer that offers the standard sizing with body length and sleeve adjustments may be worth the search. This may be one way to demonstrate that the department is inclusive of all body types.
4. Longevity, Care, and Repairs
When thinking about rain gear, it can be hard to justify purchasing the more expensive highest quality available. On the flip side, it's hard to swallow having to replace gear year after year. When considering rain gear, there are options available with life expectancy of 10-plus years. Obviously, something will only last if you take care of it.
When considering a garment, the basic care of the material is something to check. Finding garments made of materials that are easy to clean may increase the likelihood of the care being done. Officers are busy and don't want to have to follow complicated instructions to maintain their rain gear. Unmaintained rain gear will simply not last.
When comparing manufacturers, a department may also research if there are any kind of professional maintenance programs available for the gear being considered. By utilizing such programs, departments may be able to further extend the life of their rain gear.
Law enforcement is a dangerous occupation, and there are instances when an officer's gear may be damaged on duty. Departments that select a rain gear manufacturer that offers a repair service could find themselves saving dollars.
"I can't speak for what other rain gear manufacturers offer, but what I can say is that WaterShed offers an annual refurbishment program to assist our customers in maintaining their WaterShed products. WaterShed is also able to provide professional repair services for our products, depending on the severity and location of the damage."
5. Order Quantity
When considering uniform gear, order quantities are something to keep in mind. It may not be hard to hit large minimum order quantities when initially placing an order for the whole unit, however, what does a department do when there is a need for a single garment or just a few? Being sure the department will be able to place smaller orders on an as need basic, I believe, is a must know when making a final selection for patrol rain gear.