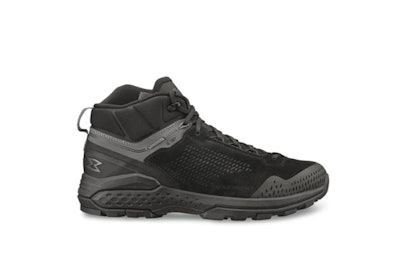 Garmont Tactical has found wide acceptance by military boot buyers, but now the company is trying to better respond to the needs of police officers. Many cops now are not fans of 8-inch boots, so Garmont is adapting.
Garmont International, originally an outdoor mountaineering company started in 1964, has become well-known as a provider of military boots. The company has found success since 2008 with the T8 line of 8-inch boots like the T8 Bifida, T8 NFS, and T8 Anthem. Newer-styled boots added to the military family of boots have included the T8 Falcon, a more lightweight boot, and the T8 Athena, designed specifically for women.
"We actually have a lot of guys that are buying the Bifida or NFS, because that's a perfect 8-inch boot that they know from their military career or have known based on other people's recommendations," says Kyle Ferdyn, Garmont International North America sales manager. "Law enforcement is a different animal for us. There are a few models that we sell really well in coyote, so we're now making those black just to have an option. Those are starting to do really well."
The challenge, according to Ferdyn, is to gain even more ground in the law enforcement segment.
However, boot manufacturers in recent years have found many cops now prefer a much shorter boot, and Ferdyn says many agencies are now leaning in favor of boots that are styled more like hiking boots.
Meeting LE Needs
"A few years ago, we created a model called the Groove, which we started with on the hiking side. It was more of a lightweight boot, very consumer price point friendly. It did very well, not only here, but especially well in the European markets," Ferdyn says.
Once the boot found success, Garmont heard from law enforcement agencies asking for it to be produced in black and coyote LE versions. So, Garmont did just that but made a few changes.
"Typically, on the outdoor side, you'll see a lot of open eyelets where you can really get a lot of leverage. In law enforcement or the military especially, you don't want any open eyelets because then they can get snagged if there's any pursuit or just in general with the attire that you have to wear," he explains.
Two Garmont boots that now fill that need for the lower-cut boot are the T4 Groove and the T4 Groove G-Dry, a waterproof version.
Both benefit from Garmont's Advance Cushioning Enhancement (A.C.E.) and heel-lock technology, which Ferdyn explains uses a lace to connect from an eyelet all the way around the back of the boot.
"The best thing about it is it keeps your heel from sliding forward at all. It really locks your heel back into the heel pocket," he says.
He details how the T4 groove lineup provides a roomier toe box, saying that it probably fits more like a wide size than a regular size. With that consideration, the heel lock helps prevent the boot from sliding around or feeling "sloppy" if the wearer has a narrow forefoot.
Another part of A.C.E., according to Ferdyn, is the use of a dual-density EVA foam underfoot.
"We have a different durometer on the heel. This is perfect for lateral movement," he explains. "So, if you're standing for long periods of time, it's stiff enough it's not going to allow your foot to rock back and forth, while you have the softer durometer that takes the impact from the outsole and under different elements will give you better support."
Both variants of the T4 Groove use a proprietary outsole that Garmont has used in a lot of different hiking shoes, Ferdyn says. Both feature a suede leather upper, Thermoformed Lycra collar and the closed hook eyelets that Garmont uses in most military and law enforcement boots.
The key difference between the T8 Groove and the T8 Groove G-Dry is in the waterproofing.
"The G-Dry we're using is our proprietary waterproof membrane. This is nothing against Gore-Tex by any means, but during COVID we had a lot of problems sourcing Gore-Tex and a lot of other materials just like everybody else. We already owned the patent for the G-Dry membrane that we use on the outdoor side of things to keep the cost down. So, we decided to implement that on the military side," Ferdyn says.
Garmont also replicates the boot, in low-cut shoe form, as the Groove G-Dry. Like the mid-boot, the Groove G-Dry features the A.C.E. sole system, a dual-density midsole, and of course, is also waterproof.
"This is something we've had for a couple of years before the T4, the 4-inch version, came out. Same exact shoe, waterproof, just a low cut," explains Ferdyn.
While some Garmont boot offerings come in both regular and wide sizes, the T4 boots and the Grove G-Dry do not. The company suggests just increasing one-half shoe size to accomodate wider feet.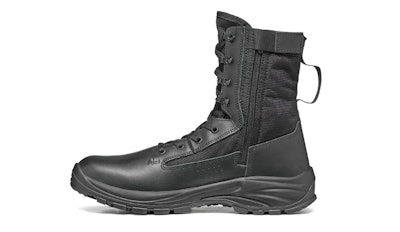 T8 LE 2.0
Garmont's 8-inch boot offering for law enforcement includes the T8 LE 2.0, a boot that gives officers a non-waterproof boot that is laced but provides easy on/off via a side zipper. It is made from full-grain leather and polyester with webbing reinforcements. Like most other Garmont boots, the T8 LE 2.0 features closed hook eyelets to prevent snagging. Plus, vents allow for air flow.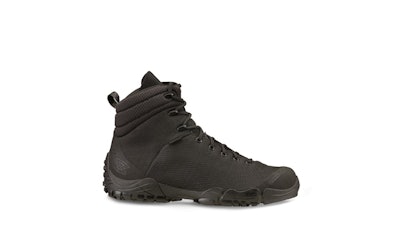 Nemesis G-Dry
The boot maker also offers both a 4-inch and a 6-inch version of its Nemesis G-Dry boot, which is described as a lightweight and protective waterproof tactical boot. Features include a highly abrasion-resistant synthetic mesh upper, combined with erGo-last and double damper technologies for an ergonomic fit with superior shock absorption, the company reports.
Originally, the Nemesis GTX line of boots used Gore-Tex, but the new Nemesis G-Dry released earlier this year transitioned to the proprietary waterproofing, Ferdyn explains.
"I would say these are probably the more popular with our SWAT teams and law agencies that are requiring a true black boot still but have the capabilities to wear something that's a little bit more technical looking," says Ferdyn.
Like the T4 Groove family, the Nemesis G-Dry only comes in regular widths, but Ferdyn again suggests simply ordering a half-size larger.