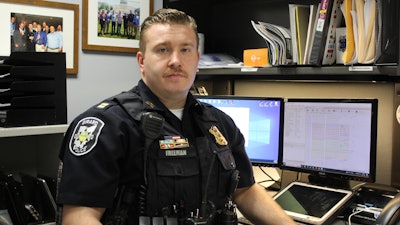 Sometimes big things can happen at small departments. The Girard Police Department (OH) only has 21 sworn officers and serves a community of about 10,000 residents, but soon will have in-house digital forensics capabilities to help officers better fight crime.
Capt. John Freeman developed an interest in computer forensics more than a decade ago when he was a young patrolman. Back in 2010 or 2011 he attended a two-week course in computer forensics.
Then, he again started studying digital forensics in recent years when he was promoted to captain in 2021. As he began taking classes again, Freeman learned of a scholarship offered by Magnet Forensics, a developer of digital investigation software used by more than 4,000 enterprises and public safety organizations in over 100 countries. He applied.
Digital Forensics Scholarship
Freeman is one of six 2022 Magnet Forensics Scholarship Award recipients, each of which gets 12 months of free access to training led by highly experienced digital forensic examiners and the opportunity to obtain industry leading certifications. They will also receive Magnet Forensics' flagship digital investigation software, Magnet AXIOM, to use for one year.
"Capt. John Freeman's resolve made him a deserving recipient of a Magnet Forensics Scholarship Award. Without access to the training or resources he needed to bring digital forensics to the City of Girard Police, Capt. Freeman spent the last two years seeking alternatives and funding his own education," says Jad Saliba, founder and chief technology officer at Magnet Forensics. "We're proud to help Capt. Freeman complete his training and give the City of Girard Police the technology they need to create and operate a digital forensics lab. Their new capabilities will be integral to seeking justice and protecting innocent victims given the prevalence of digital evidence in modern crimes."
"Few agencies in Ohio have the resources for digital investigations despite just how important digital evidence has become in almost all our cases. After my year of training, I'm going to share what I learn with nearby agencies and assist them in their investigations so that their communities can have better access to these essential services," says Freeman, who will become the first digital forensic investigator for his department.
Freeman started in public safety first as a volunteer firefighter and EMT in a neighboring jurisdiction, then transitioned to law enforcement in 2007. In 2009 he was hired by the Girard Police Department through a Department of Justice COPS grant.
Since joining the Girard Police Department, he has worked a variety of different assignments from drug investigations to criminal investigations and served as a field training officer. In 2014 he was promoted to sergeant and worked patrol for several years. Freeman currently is the captain that oversees the patrol division.
Digital Forensics Focus
"We definitely want to focus strongly on our mobile aspect of the program. Given the increases in the proclivity of mobile devices that we're running into and all nature of crime, be it cyber tips, CSAM, even the patrol functions, mobile devices are going to be potentially a large aspect of what we're going to be focusing on. But we also want the capabilities to be able to do traditional inspections as well on hardware," he explains.
Currently, when Girard police need a device inspected, analyzed, and reported on, the evidence items are sent to the state lab operated by the Ohio Bureau of Criminal Investigations (BCI). Typical turnaround time is at least a month, sometimes longer and sometimes shorter, Freeman says.
"Potentially with the advent of this opportunity from Magnet we'll be able to cut that down shorter and be able to address the prioritization of evidence and these examinations in a better more efficient way," Freeman adds.
He spent nearly seven years in first-line supervision on patrol, so now as a captain he still wants to take care of those patrol officers by giving them forensic resources that can help in cases they frequently encounter.
"We know the proclivity of digital evidence is increasing at a staggering rate. And the sources of where we can draw these potential pieces of evidence from to support just about any crime out there now is substantial," he says. "So, to be able to support our patrol officers and being able to identify and collect and process those pieces of evidence that might be critical to their more traditional crimes that we think of, such as burglaries, assaults, and whatnot, I think that's going to increase our potential caseload going forward."
The first step for the department will be having a certified digital forensics investigator on board. Freeman can take as many classes as he wants through Magnet Forensics for a year, and he already started coursework in March. That new knowledge, he points out, will let him better understand in his administrative role how to create the forensics program for the agency. Also, the department will be provided unlimited use of Magnet Axiom to analyze, recover and manage digital evidence for a year at no charge.
"We have a great community, we have a great police department, and to be able to bring this opportunity to not just our community, but to our own guys to make sure that they have the capabilities to do their job more efficiently is very rewarding," Freeman adds.
Other 2022 Scholarship Recipients
Other recipients of the 2022 scholarships include:
Kristin Seering, of the St. Louis County Police in Missouri.

Geoff Johnson, of the Brantford Police Service in Ontario, Canada.
Jason Neems, of the Queensland Police Service in Australia.
Joel Chukwuji, of the Nigeria Security and Civil Defence Corps in Nigeria.
Ana Moura, of the Military Police of Sao Paulo in Brazil.
2023 Scholarship Applications
Investigators who are interested in applying for the 2023 Magnet Forensics Scholarship Awards can visit the program's website to learn more about the process and the deadline.
About Magnet Forensics
Founded in 2010, Magnet Forensics is a developer of digital investigation software that acquires, analyzes, reports on, and manages evidence from digital sources, including computers, mobile devices, IoT devices, and cloud services.