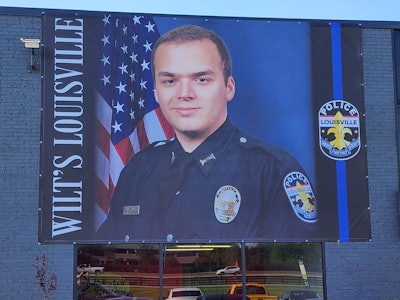 The Louisville Metro Police officer who was shot in the head as he responded to an active shooter attack at a downtown bank earlier this month has been honored with a banner bearing his name and likeness. The "Wilt's Louisville" banner was unveiled Monday.
Two weeks ago rookie Officer Nickolas Wilt ran toward danger with his training officer after a shooter inside the Old National Bank killed five fellow employees. The shooter was killed in a gun battle with training Officer Cory Galloway, who was first on the scene with Wilt, WDRB reports.
Wilt was only four shifts out of the police academy when he was shot.
The Louisville Police Foundation, Supporting Heroes and community members along with national, state and local officials were on hand for Monday's unveiling.
The location was chosen for its visibility. Thousands of cars drive past the building at 9822 Bluegrass Parkway near Hurstbourne Lane and Interstate 64 every day.
Wilts remains in critical but stable condition at a local hospital.