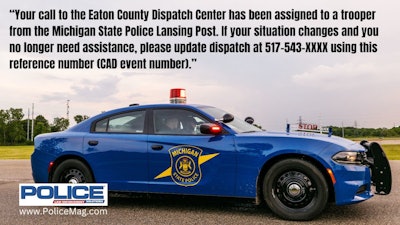 Earlier this week the Michigan State Police (MSP) launched a test program in which 911 callers are notified by text that a trooper has been dispatched, provided an estimated time of arrival, and given updates if the trooper is delayed in the response. It is a pilot program rolled out Wednesday morning that will be tested for 90 days with callers across four counties in mid and southwest Michigan.
"Utilizing technology to provide our customers with real-time updates and seek their feedback on our service delivers on our commitment to modern policing," says Col. Joe Gasper, director of the MSP. "We strive to provide the best customer service experience to each person we interact with and by using automatic text message notifications and satisfaction surveys we'll be able to not only provide better customer service, but also make adjustments based on direct customer feedback."
MSP divides patrol responsibilities across 31 posts within seven districts. Lt. Rene Gonzalez explains the new text program launched at the Lansing post that covers Eaton County and the Marshall post that covers Branch, Calhoun, and St. Joseph counties.
Following the pilot period, consideration will be given on whether to purchase and deploy this technology at all MSP posts.
Gonzales says the technology is provided through PowerEngage and SPDR Tech and it is automated through the dispatch system, meaning the 911 operator does not have to send the texts individually. However, texts will not be sent on certain types of calls.
"Calls of a sensitive safety matter would not receive a text message. For example, a domestic violence call, we would not text back the caller because there could be a chance that they made that call secretly and the offender doesn't know that they called the police," explains Gonzalez. "Or maybe an armed robbery. If someone's experiencing an armed robbery, we wouldn't send them a text. The offender may still be on scene, so we don't want them to know that they have made that call."
For the calls where a text would not endanger a caller, the person will receive a text notifying them that a trooper has been dispatched and providing the ETA. If the trooper's arrival time changes because he or she had to be routed to a priority call, a text update will be sent to the caller providing the new anticipated arrival time.
"It's practical and it's just very simple. I think it helps the person that calls 911 with the stress level of when we're going to be there," Gozales adds.
MSP also hopes to gather feedback from 911 callers through the pilot program. Following the conclusion of the incident, cellular 911 callers in the four-county area will receive a text message within 24 hours. They will be invited to take a short satisfaction survey.
According to MSP, feedback collected from the survey will be used to recognize good customer service, provide insights into areas that can be improved, and guide decision making to improve customer service. Positive feedback will be shared to encourage employees, boost morale, and recognize outstanding service.
"We want to improve the service that we're giving to the citizen, so that's why we're trying this. It's another way that we can give them better service," Gonzalez says.
Text Example 1
"Your call to the Eaton County Dispatch Center has been assigned to a trooper from the Michigan State Police Lansing Post. If your situation changes and you no longer need assistance, please update dispatch at 517-543-XXXX using this reference number (CAD event number)."
Text Example 2
"Your call to the Eaton County Dispatch Center has been assigned to a trooper from the Michigan State Police Lansing Post. While you wait for trooper(s) to arrive, please gather a recent photo of the missing person, compile a list of any identifying physical characteristics, when you last saw the person, and any relevant conditions that might affect how a trooper interacts with the missing individual. If your situation changes and you no longer need assistance, please update dispatch at 517-543-XXXX using this reference number (CAD event number)."