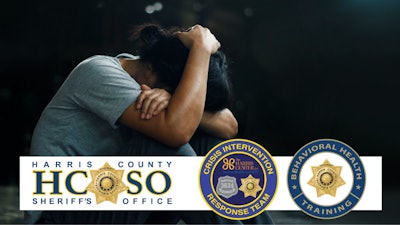 Departments across the country in recent years have placed a growing emphasis on improving how they respond to mental health crisis calls. In Texas, one agency both deploys clinicians in the field with deputies and also taps into technology through telehealth.
The Harris County Sheriff's Office is one of only 15 agencies that have been designated as a learning site for mental health and law enforcement professionals by the Council of State Governments Justice Center, which strives to develop research-driven strategies to increase public safety and strengthen communities.
"Part of my responsibility is to help other agencies in looking at staffing, budgets, training, how to get a program up and running from the ground up, what it takes to run a pilot, and things of that nature," explains Sgt. Jose Gomez, who leads the department's Behavioral Health Training Unit.
Building a Program
The department's co-responder model, which pairs a deputy with a clinician from a local mental health authority in the same car, began in 2011. The program started small with just three full-time deputies and two volunteers. Gomez was one of those part-time volunteers who would work with the unit on his normal days off. He says within a year, the department opted to grow the team and expanded to six full-time deputies, eventually growing to nine.
Sheriff Ed Gonzalez took the helm of the agency in 2017 and emphasized mental health response training. In doing so, he recruited some specialized crisis intervention talent such as Houston Police Department retiree Frank Webb, whom Gomez refers to as "the godfather of CIT" at the department. Also, Mike Lee, then a major but now a chief deputy, helped build the program.
Tasked with the mission to improve mental health crisis response, the new leadership created the department's Behavioral Training Unit.
Within the department's behavioral health sector, there are multiple components – the Crisis Intervention Response Team (CIRT) and the Clinician and Officer Remote Evaluation (CORE) program – in addition to the training arm.
CORE
CORE equips a deputy or police officer with an iPad that provides immediate access to a clinician remotely. There are 400 tablets issued across 14 agencies in Harris County. The sheriff's office serves as a liaison with those other departments and assigns a deputy to the program full-time.
Harris County is an expansive geographic area and Gomez says it can even at times take an hour to two for CIRT to reach a scene. How could the department reduce travel time to mental health crisis calls yet still provide the needed resources? Those iPads were the solution.
Deputies responding to a scene can use the tablets to contact a clinician 24/7 at The Harris Center for Mental Health and IDD. The mental health entity provides HIPPA-compliant programming that operates on the tablets.
"The clinician is able to assess that individual and give advice to that deputy or police officer on what to do. Do you have enough to take them under an emergency detention order or take them to a psych hospital? Can we leave them there and send other types of resources to assist that individual?" explains Gomez.
"What this helps do is reduce the likelihood of going back out to those scenes and it also helps with jail diversions, diverting people from the criminal justice system to the mental health care system," he adds.
Piloting the Concept
Gomez says when the program was first launched as a pilot there were approximately 400 calls for service where tablets were used to contact clinicians. During the pilot, only 20 iPads were deployed. In that first year, 48% of the calls where the tablets were used were determined to be the individuals' first connection to any type of mental health resource.
"That's huge. This meant that this was a new clientele for the local mental health authority and now we have them in the system where we can better assist them. If we ever respond to them again, we have their information, we have these things in place so that we can now help this individual. But what it also meant is something that we already know in police agencies — we are a lot of the times the first response to any type of mental health crisis," says Gomez.
Gomez explains the concept came from Dr. Avrim Fishkind, who had been the first director of The Harris Center for Mental Health and IDD. In 2017, Fishkin owned JSA Health Telepsychiatry, a company specializing in telehealth. Initially, even ahead of the broader pilot program, the concept was tested with three deputies, one of whom was Gomez. To scale up, the program was shifted over from Fishking's private business to the local mental health authority, The Harris Center. A grant awarded in 2019 provided more tablets and training to grow the concept.
The concept continued to grow within Harris County and soon eight constable precincts came on board and were provided tablets. Other municipalities also joined, and the sheriff's office is still trying to recruit other local agencies. Those other agencies being able to deploy the concept would help provide more diversions from the jail, which is run by the Harris County Sheriff's Office.
CIRT
In the case of more critical mental health calls for assistance, CIRT deploys a clinician in the car with a deputy. At first, the relationship is like that between a field training officer and a rookie.
Gomez explains how the deputy will teach the clinician about responding to calls and the nature of law enforcement work.
At first, ballistic vests were not issued to the clinicians, but that changed. The sergeant points out that there was an increase in officers being shot about 10 years ago. So, for the past eight or nine years, the CIRT clinicians have donned ballistic vests.
"They say clinician in the back and some of them say The Harris Center for Mental Health and IDD to clearly mark them as a non-police uniform," he explains.
"I tell agencies if you can afford both programs, they complement each other very well," says Gomez. "So, what this model did, our telehealth program was leave our crisis units to the more severe critical calls for service."
De-escalation Training
Since 2021, the department has been teaching the Police Executive Research Forum (PERF) de-escalation program called Integrating Communications, Assessment, and Tactics (ICAT), which Gomez says has become a national model. Each new hire, even laterals, must complete the full 40-hour CIT training. The sheriff mandated that every year each sworn member of the department must take an eight-hour CIT refresher.
Lessons from Harris County
The Harris County Sheriff's Office has aided other departments from around the country in planning how to craft a plan for training and how to respond to mental health crisis calls. Gomez, who is often the contact for those other agencies, has seen the benefits of his department's co-responder model, whether in person via CIRT or through technology deployed through CORE.
He has provided 10 tips that any size department can use in responding to mental health crisis scenarios.
Those tips are:
1. Provide Ample Training
Crisis intervention training, or CIT, is a recognized training model across the United States. Some agencies have a 40-hour class, and some have an eight-hour class. Gomez says in his experience, eight hours of training is not enough. A 40-hour class allows enough time to teach certain modules like common mental health diagnoses, examples of calls for service, guest speakers from mental health organizations, and a day for scenarios. Furthermore, a de-escalation class should be incorporated. PERF has developed a nationally recognized training called Integrating Communications, Assessments and Tactics (ICAT) which focuses not only on CIT-related material but also tactics.
2. Have a Policy
Policy assists and guides officers in the response to these situations. The policy should not be seen as a form of disciplinary tool but a tool to guide response. The policy should coincide with what is being taught in training.
3. Train First-Line Supervisors In CIT
First-line supervisors play an important role when responding to these types of calls for service. They should be on top of the list of those being trained in CIT and de-escalation as they are leading from the front. First-line supervisors should not assume they are not needed and should act as a guide in these types of situations, whether it be collecting more information or bringing further resources to the call.
4. Take Your Time
Responding to calls for service with a mental health nexus should not have a time limit. The individuals usually are in some type of crisis, whether it be behavioral, situational, or drug-induced, and do not perceive the situation as a normal person would. Time is on your side, and this is where the first-line supervisor plays a big role. These are unique events that require time and patience.
5. Understand Mental Health Resources
Each agency has unique resources. The Harris County Sheriff's Office has telehealth where deputies are equipped with an iPad that can access a clinician to assist with mental health assessments or provide information about an individual who may be in crisis. The department also has the co-responder model, the Crisis Intervention Response Team, which consists of a mental health peace officer and a clinician. These two programs are essential to the response. If you don't have these types of programs, you could also contact EMS or your local mental health authority, or the mental health-related organization you may be working with.
6. Collect Information
As we all know in law enforcement, what we see on our call log may not be what is happening on the scene. As part of our training, we always suggest a callback to get more information. If we do not have enough information when we are dispatched, we should be making a callback. The more information we as police have, the better we are prepared to respond to that situation.
7. Educate the Dispatchers
Dispatch should be included in the training as it pertains to calls for service with a mental health nexus. Call takers should be asking about mental health issues, drug issues, and history, and should encourage honesty over the phone since there is a huge stigma surrounding mental health.
8. Create Distance
When responding to a call with an individual who may be in crisis, responding officers should create space. Space gives the officer time to think and create options for everyone involved.
9. Pre-plan Response
Nothing is worse than when plan A fails, and you don't have a plan B in place. Responding officers should pre-plan their response: who should be talking, who will be the contact, who will be cover, and who will communicate with the supervisor. These questions should be answered way before responding to the scene.
10. Understand Importance of the Backup Officer
Pre-planning is important, and the backup officer has a huge responsibility in these scenes. They are the right hand of the first-line communicator. This individual needs to be aware of all that is happening around him including paying attention to the conversation. If the conversation between the individual in crisis and the first-line communicator is not working, the backup officer should be ready to fill that role.