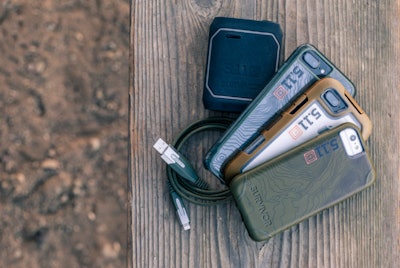 5.11, known for its purpose-built gear for tactical professionals, and Griffin Technology, creator of award-winning and thoughtfully designed mobile accessories, have together debuted the Griffin Survivor: 5.11 Tactical Edition collection of rugged and versatile mobile accessories. The collaboration includes ultra-protective iPhone 7 and iPhone 7 Plus cases and high-performance power and connectivity solutions, now available online at 5.11 Tactical, Griffin Technology, and in 5.11 retail stores.
The Survivor: 5.11 Tactical Edition mobile accessory range is made to unite Griffin's widely-recognized Survivor series of military-tested protective mobile solutions with 5.11's purpose-built and highly durable product design features to deliver a collection of personal tech solutions built to withstand the elements.
"5.11's tactical end-users have asked us for rugged phone cases and accessories," said Tom Davin, CEO 5.11 Tactical. "They want gear that will keep them mission ready, on and off duty. We partnered with Griffin Technology because they have the best solutions for mobile device protection and everyday carry that will help us meet that demand."
"Operators from the world of law enforcement, firefighters, emergency management and military personnel worldwide trust Survivor to protect their devices so a partnership between 5.11 Tactical and Survivor is a perfect match," said Ethan Opelt, Survivor Category Manager at Griffin Technology. "We have long been incredibly impressed with the innovative approach 5.11 Tactical brings to the apparel and gear they design and we value learning and applying their tactical gear expertise to deliver the Griffin Survivor: 5.11 Tactical Edition collection."