Genetec Inc. ("Genetec"), a leading technology provider of unified security, public safety, operations, and business intelligence solutions, has announced the launch of a next-generation software platform called Genetec Traffic Sense. Designed to deliver greater oversight and efficiency for traffic operations, Traffic Sense brings a unified view of traffic systems, taps into emerging technologies such as video and data analytics, and introduces a higher level of automation to speed up resolution of road incidents.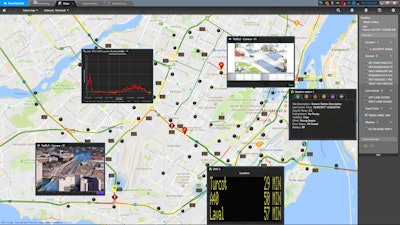 Traffic Sense is designed to seamlessly integrate new and emerging technologies, reducing customers' total cost of ownership and shortening implementation cycles significantly. Traffic Sense enables traffic centers to adapt and automate responses to current challenges, such as roadworks, new developments, and changes in driver behaviors.
Traffic Sense delivers a consolidated, unified view of real-time conditions and vehicle flow to traffic operation centers, border crossing agencies, and transportation departments so they can monitor traffic conditions in real-time and with more detail. From real-time notification of road incidents, to presenting all relevant information in a single interface, and guiding responses through automated workflows, Traffic Sense empowers traffic operations staff to get roads quickly back to normal.
By tapping into a variety of data sources from roadside sensors to 3rd party probe data for travel-time analytics, Traffic Sense automatically identifies congestion as it builds up. It correlates traffic data with associated video feeds, all displayed within dynamic maps of roadways, giving operators instant and complete awareness of what is happening. Armed with this information, operators can take action through Traffic Sense to bring things back to normal. They are guided in their response through dynamic standard operating procedures, and can update signs along affected roadways right from Traffic Sense, ensuring drivers are well informed at all times.
"The road transportation industry is experiencing a period of rapid transformation. New and emerging technologies are needed to help traffic operation centers understand and deal with the increased complexity of our roads and always-changing traffic conditions," said Christian Chénard-Lemire, Commercial and Delivery Lead—Traffic Sense at Genetec. "With Traffic Sense, we offer cities and states the ability to better understand and visualize what is happening on their roads and equip them with the control they need to resolve incidents in the moment."
Traffic Sense also allows organizations to define the resolution procedures that guide their teams in responding to a road situation. Administrators create automated workflows that are triggered based on a situation in progress, which in turn present the appropriate response procedure to operators. They no longer have to guess, and they have everything they need right in front of them. This approach is ultimately more efficient, less error-prone, and ensures operators respond consistently and with less stress, according to the company.
Integration with Google Maps and Axis Citilog
Designed to be connected to a number of third party traffic applications, Traffic Sense is the first traffic operations software in the Canadian market to integrate data directly from Google Maps, according to the company. Traffic Sense is able to use Google Maps data, alongside data from Bluetooth sensors and Automated License Plate Recognition systems (ALPR), to calculate absolute and relative travel times. Traffic Sense can then trigger actions and automate tasks, such as alerting operators to unusual congestion and displaying slowdown warnings on digital message signs to redirect drivers.
The new software also integrates with the automatic incident detection system from Citilog, an Axis Communications company. This system identifies incidents and accidents within seconds on streets, highways, bridges, and tunnels. When a new incident occurs, such as a car on fire or illegally parked vehicle, Citilog will automatically trigger an alarm within Traffic Sense, bring up nearby relevant video feeds, and prompt the operator to call the emergency services and bring up relevant information to be relayed, such as GPS coordinates.
Traffic Sense is available now from the extensive network of Genetec certified systems integrators. To learn more about Genetec Traffic Sense, visit www.genetec.com/trafficsense.